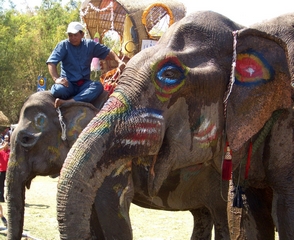 It was billed as the first elephant festival of it's kind in Laos. working elephants  came from many miles away.  Located in a small, remote, Laos village getting there was to be half the fun.
We would  hire a boat and travel down the Mekong River, off-loading on a sandy beach we would then proceed to the village where we would stay with a Laos family.
As the elephants streamed into the village in brightly colored regalia and locals opened shop to make money any way they could from this once in lifetime opportunity, we settled in for a great experience.
Little did we realize we were soon to feel the highs of the festival and the lows of a GT-Rider rushed to a dirty jungle hospital and the death of a villager.
For the full story and photos click here….
Filed Under: Laos