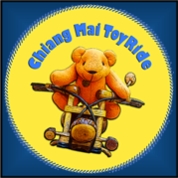 JOIN THE ANNUAL CHIANG MAI TOYRIDE – HAVE FUN – MAKE CHILDREN HAPPY

Motorcycle toy rides are popular with bikers the world over. We motorcyclists love life, freedom & riding our bikes. Indeed, we are fortunate to be alive & enjoying life riding the Golden Triangle. But we also see children not so privileged & able to enjoy life as much as us happy bikers. So we like to put something back & help children of North Thailand / The Golden Triangle.
PUTTING SMILES ON FACES
HIV Children
Orphaned Children
Hill Tribe Children
A Child in Need…
Join us on the ride and the party.  Admission is just a donation of one new toy. Dress up your motorcycle with toys and possibly receive a prize for the "Best Dressed Motorcycle".
I am very happy to be the Co-Chairman of the organizing committee for the Chiang Mai ToyRide. Not only do we have the annual toy ride, we also use the proceeds and donations to assist kids throughout the year.  We donate to hospitals, schools, and communities in any way that will help children in need.
If you have ideas or suggestions please let me know  AND be sure to visit the Chiang Mai ToyRide website.

Filed Under: Chiang Mai ToyRide • Daily Blog