One learns to live with many critters and things here.  The first lesson is "everything bites, stings, or hurts you in some way"!
I have seen many types of insects that I have no idea what they are.  Here are some common ones crawling around the yard.  It's not a good idea to walk around without shoes at night, and it is a good idea to shake your shoes before you put them on.
If you leave a morsel of food out, or don't seal the package tight, it will soon be swarming with ants.  The contents of any boxes, such as cereal or cookies, must be put in plastic containers.
I have only seen 3 snakes at the house. Two green tree snakes, and a Keelback of some kind near the river.  Thim claims to have seen one about 4 feet in length under the house.  But by the time I figured out what all the screaming was about it was gone.
Most of the insects one finds. according to the locals, are good to eat. (Hmm. I just thought about that. I will have to do a post on the "edibles".
I don't like killing things if I don't have to.  I try to catch and relocate them if I can, but some just have to go.
Today, 21-Jan-2010, I heard that familiar scream from under the house. I retrieved my homemade snake stick and attempted to catch this guy.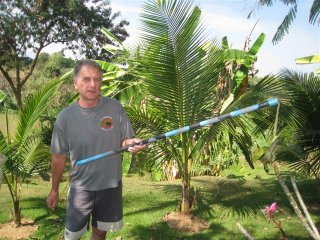 He took a couple bites at the stick and then headed up the side of the house.  I have no idea how they can climb like that.  I lassoed him and then released him in the river.  He seemed to like it at my house as he kept swimming back to me.  Finally, I convinced him to go to the other side of the river.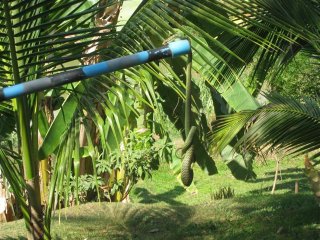 He is a Golden Tree Snake.  Only mildly venomous, they will bite when cornered.  They usually live on Geckos and rodents. [click on photo for larger view]
.
.
.

This dropped in for a visit the other night while I was watching TV.  He said something about wanting to watch some Dracula movies……….
After a couple laps around the house he flew out the door I opened.  I have no idea of how he came in……….
It's always interesting at my house.

Filed Under: Daily Blog