4 Down, 20,000 Came………
The following was sent to me in an email by my police friends.  I don't know the original source, so I cannot give credit, but I am sure they would not mind my re-posting it here.  In my career I attended far too many police funerals, including the loss of a partner.  None the less, it always makes one proud to see the show of support and camaraderie that is exhibited.  We never forget our own.

RIP- Mark Renninger, 39, Ronald Owens, 37, Tina Griswold, 40, and Greg Richards 42.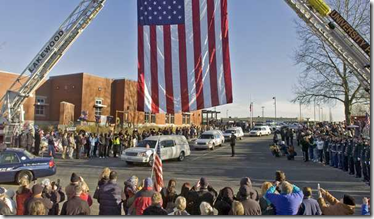 On December 8, 2009, in Tacoma, Washington, ten's of thousands of police officers from all over the USA,Canada, and overseas showed up for the funeral for the 4 slain police officers from the Tacoma suburb of Lakewood.  Over 20m000 police officers arrived for the funeral. 1,000 Royal Canadian Mounted Police officers dressed in their red uniforms formed a massive sea of red. Over 100 officers attended from New York, and another 100 from Boston.  All hotels in Tacoma were booked full and the overflow officers were invited into the homes of local officers.  McChord Air Force Base offered their base as a staging area for over 1,000 police vehicles that would form a procession from Lakewood to the Tacoma Dome.  An amazing 3,000 vehicles showed up from all over the USA.and the procession took 4 hours to wind their way to the Tacoma Dome with the streets lined with thousands of folks waving American flags along the wall…all in weather that was sunny, but around 20 degrees (f). The above picture shows the procession as they picked up the 4 white hearses in Lakewood.  I'll give you the rest of the report in pictures as follow…..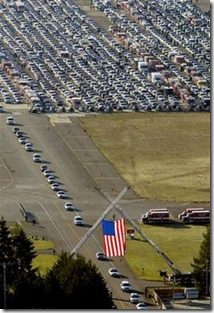 3,000 Police Vehicles staged at Mc Chord Air Force Base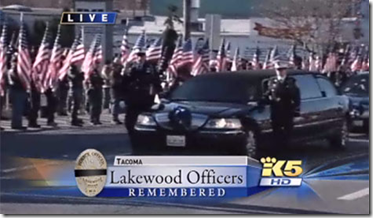 Local TV Coverage lasted over 6 hours.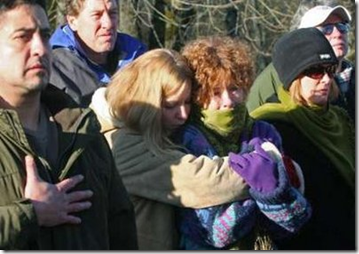 The crowd as the procession passed.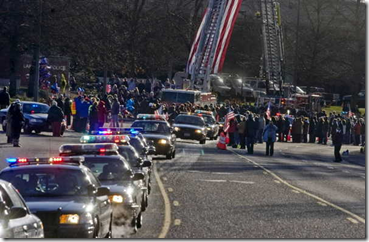 The processions was 10 miles long and took 4 hours to pass.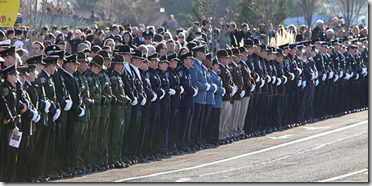 Arrival at the Tacoma Dome.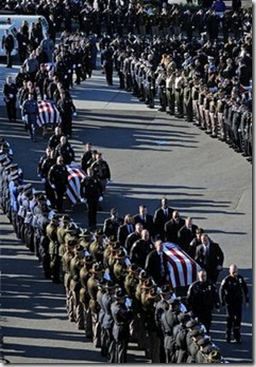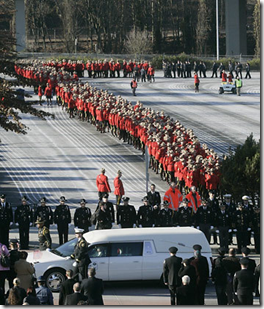 Royal Canadian Mounted Police marched in a sea of red.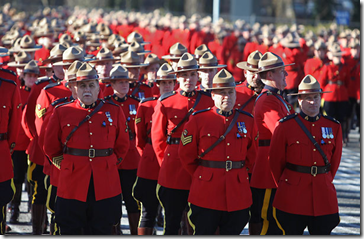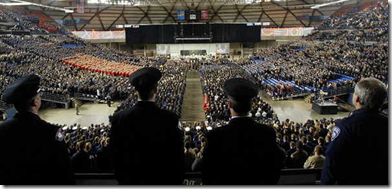 Inside the Tacoma Dome ceremony.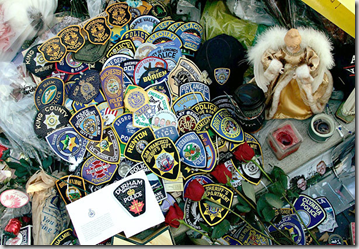 Shoulder patches left from all over the USA.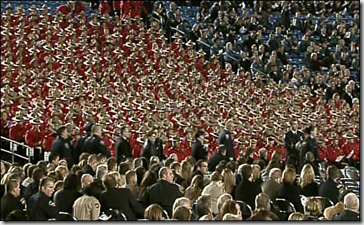 Thank you to Canada for your respect,and also to all the other officers from over 275 USA cities.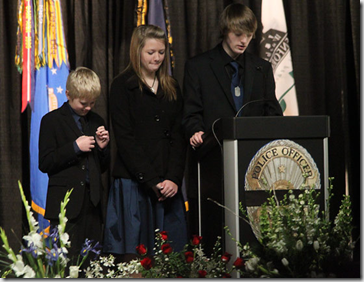 The courageous children of slain officer Greg Richards speak in his memory.
Gavin (10), Jami (15), Austin (17).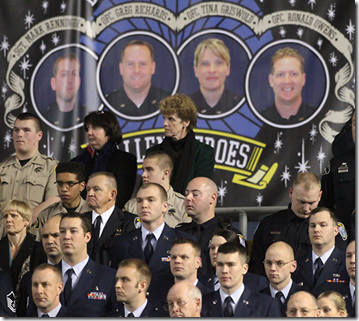 This was a funeral that not only honored the memory and courage of the 4 fallen officers, but to honor all law enforcement officers, firemen, paramedics, and military police from the whole whole USA who serve to protect us. Thank you and God bless.
(original writer unknown)
Suspect in Officers killing Slain in Seattle!
Filed Under: Daily Blog