Chiang Mai – Hanoi & Back – Xam Nua – Nong Khiew and home.

When we awoke in Xam Nua and prepared to hit the road, I did feel a little like my leash had finally been removed (no offense guys). I love riding in Laos and I am fairly familiar with most areas. I had told the group prior that I was cutting across Laos Highway 1c, south of Xam Nua, to Nong Kiew. The others had business in Luang Phrabang and were headed there via Phonsavan.
I was riding on some of my favorite roads and passing familiar well liked places.  I was content.  Our group split up at this point.  David and I continued together for another day, then we too went our seperate ways.
I had ridden the 1C last in 2005 and it was a bit challenging. It has since been paved it's entire length and I wanted to give it a try. Never having ridden it before, David decided to join me and then ride Nong Kiew to Luang Phrabang. It's a great ride with many twists and turns but not meant for high speed. There are many ethnic villages along the way and, at the right time of year, very beautiful. This time of year, conditions changed dramatically and I wouldn't call it beautiful, but still a nice ride.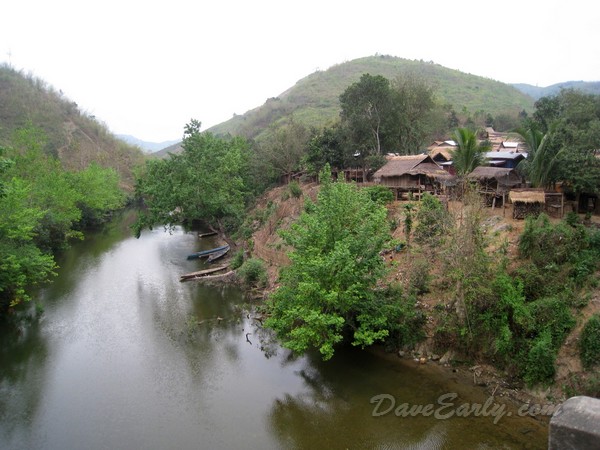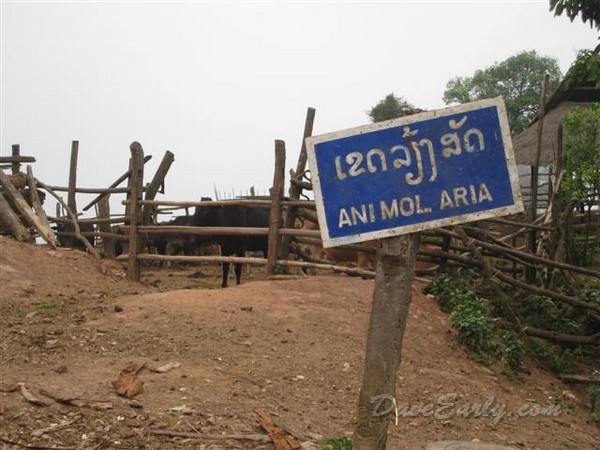 It can feel a little desolate at times.

After the half way point of Vang Nguen, where we had lunch and refueled,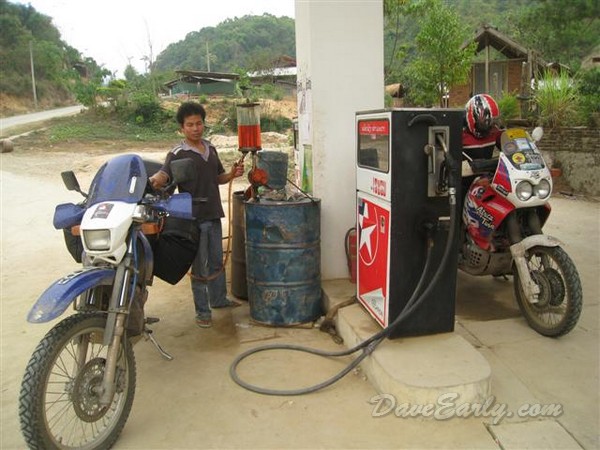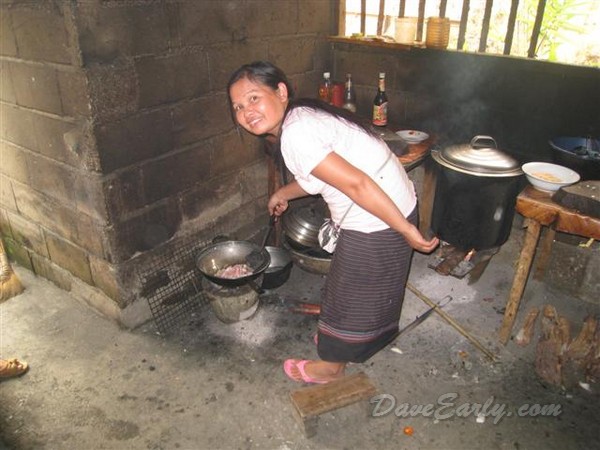 We didn't expect to see a Fino here.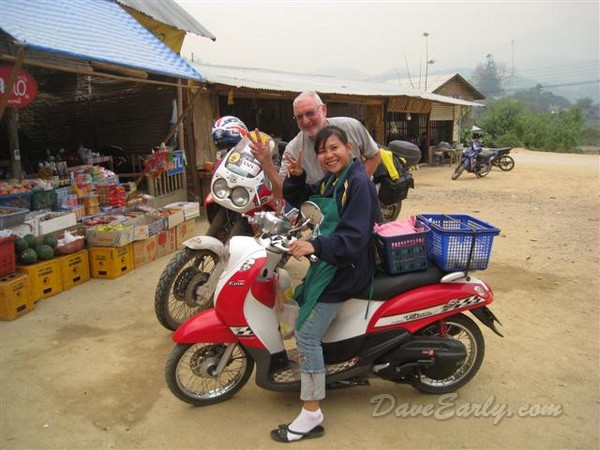 I rode on ahead while David attempted to GPS almost every village and hamlet along the way.


I waited for David to arrive around sunset at a Nong Kiew. Nong Kiew is one of my favorite destinations in Laos and I did a report on it in the post
Laos the EZ Way
I checked into the Nong Kiau Riverside Resort and decided to relax for a couple days and attend to laundry and the motorcycle.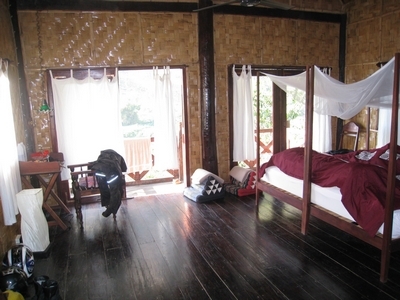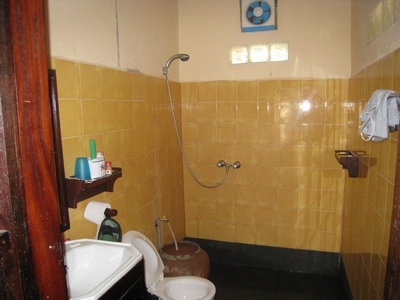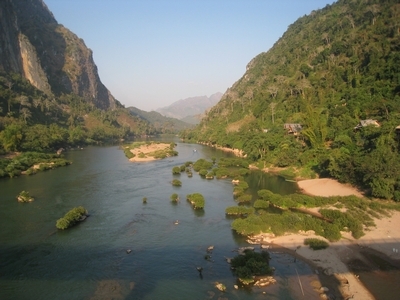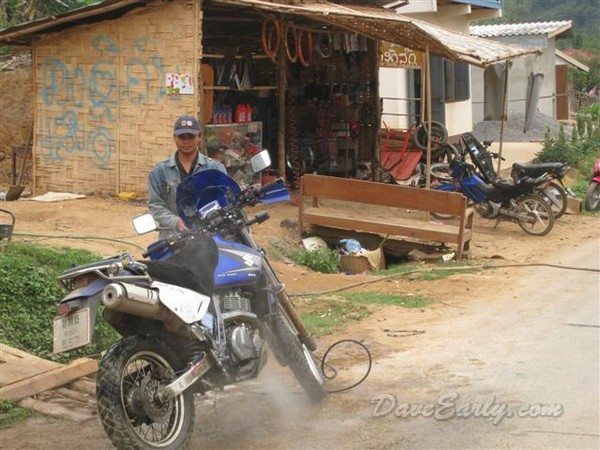 After two nights in Nong Kiew I was relaxed and ready to head home. I left NK at 8:30AM and rode at a steady, but not really fast pace. Highway 13 to Oudomxay is broken asphalt and a rough in places, but still not too bad.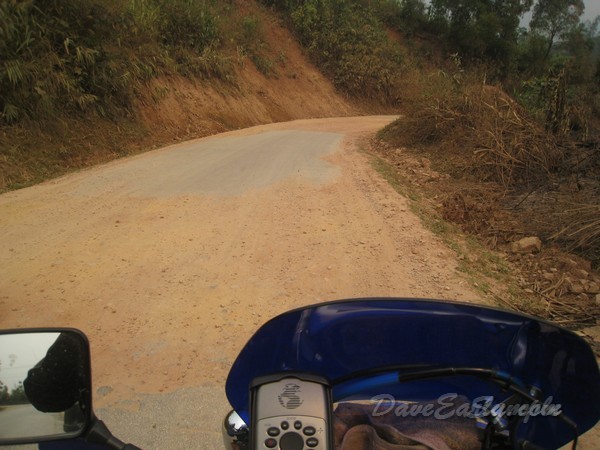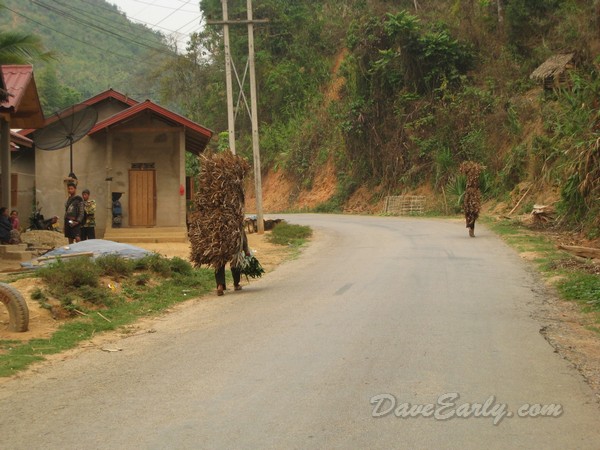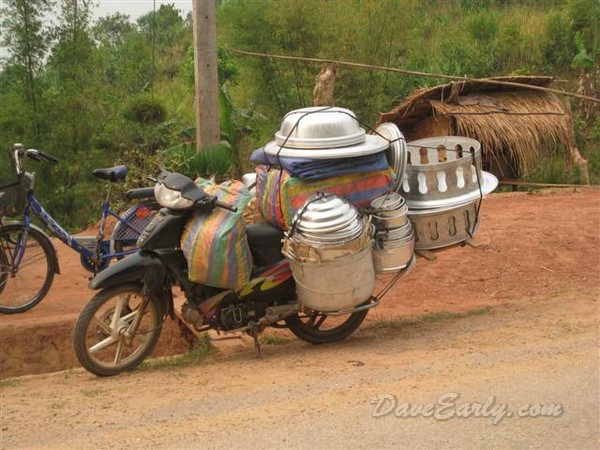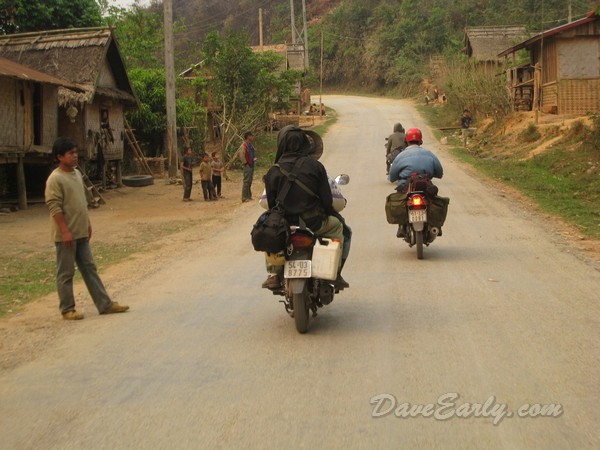 These guys were headed my way in a group of 4 bikes carrying kit and extra fuel. :thumbup:
My plan was to spend the night in Pak Beng (approx 200km) and then back to Thailand the next day.
Turning onto the 2W approximately 8km east of Oudomxai, it was racetrack surface.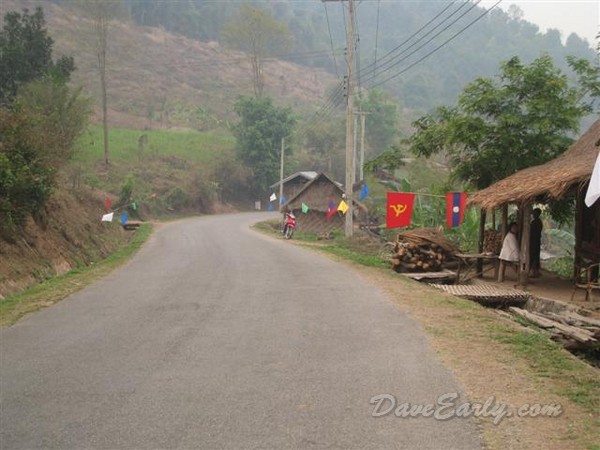 I arrived in Pak Beng shortly after lunch time and decided to keep on going. At Pak Beng I took the new road under construction to the Mekong ferry and then on to Mueang Nguem border crossing. The 10km from Pak Beng to the ferry looked like something from Dante's Inferno.  From there it was just a couple hours to the border and back into Thailand and a night in Nan.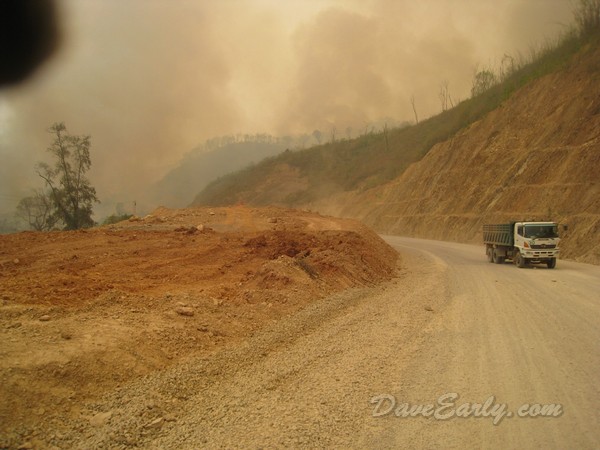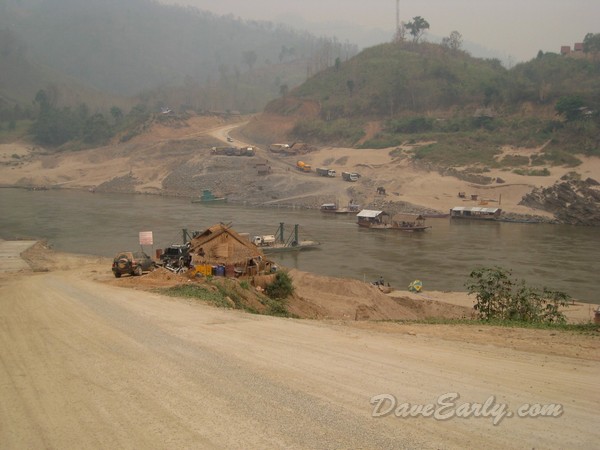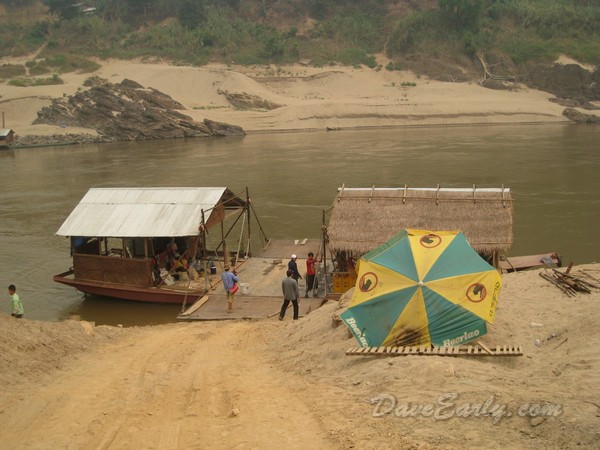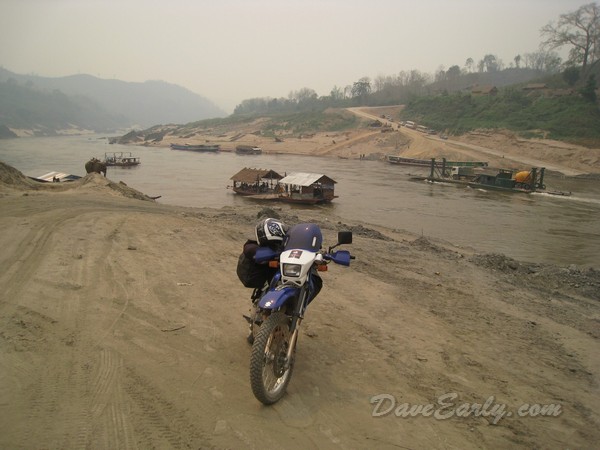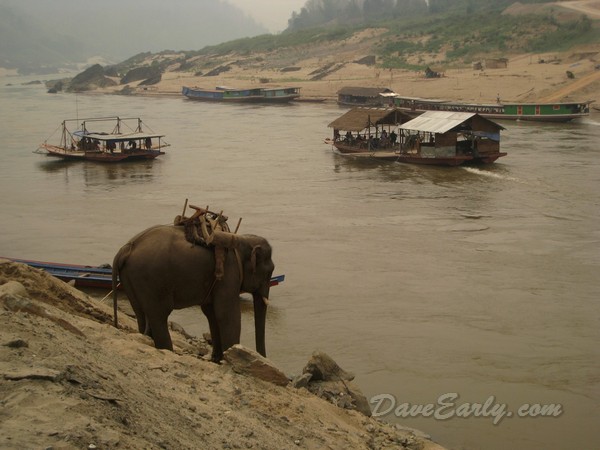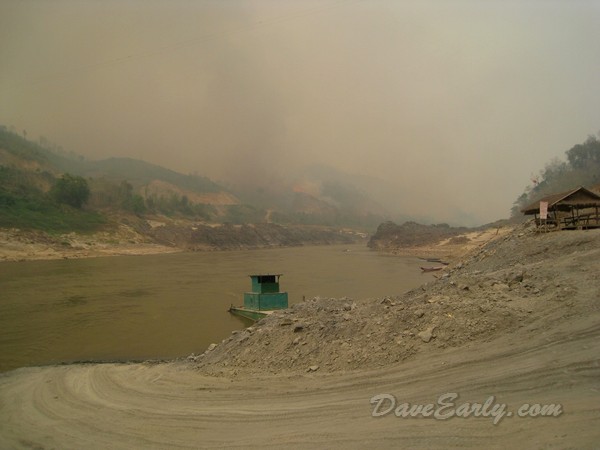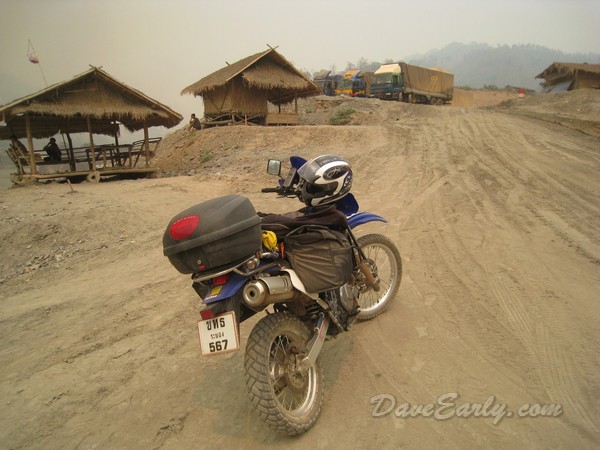 In Summary
I was asked how I felt Vietnam differed from Laos, as they are both still Communists countries……..
How is Vietnam different from Laos? It is hard to describe. I feel like I have just read the inside jacket of a book cover, but I am far from knowing the whole story. One would have to spend more time and cover more areas with more freedom. We were on a specific mission, survey a possible route for a future tour (answer: no way on that route). The time of year could not have been much worse for scenery and great views. But, you sometimes have to grab the opportunity WHEN it presents itself. Thanks Armin for that opportunity.
In short, I felt Vietnam is much more of a hectic pace. The people more in your face, mostly in a less shy, inquisitive way. I was much more conscious of being in a controlled, communist environment. The routes we took I would equate to doing the Mae Hong Son Loop in Thailand, or riding to Luang Phrabang in Laos. Interesting, but everyone else has done it too. They seem to take better care of their ethnic peoples and we were told so by our guides. There was never the "natural" feeling like one gets in a Lao village. Here everything seemed orchestrated and for show. There is so much that I haven't seen, and areas to explore "off the tourist route", that my opinions are really baseless and irrelevant on the whole, at this point. I do feel taking your own bike is NOT the way to go. Perhaps more on this later.
I will say, I enjoyed most: our 4:30AM dash from Muang Khua to the Vietnam border, our last 2 days ride leaving Hanoi to the border were quite nice and I would do that again. My ride back from Na Meo border crossing INTO Laos and onto Nam Nguen border crossing Laos/Thailand was splendid. Real ethnic villages, some decent roads and I just happen to LIKE Laos a lot.
Take a look at my last couple days on the road for this trip. A drastic change in weather, and also people.  This will end my contribution.  But, in the final part (7), David gives his detailed summary of the trip AND he tells how we managed to do it. Check that out also.

Filed Under: Vietnam