(continued from "A New Zealand Road Trip")
We awoke to a bright and fresh morning; images of ski slopes dancing in our heads.  As I walked to the shower, the manager of the campground where we were staying said; "You're not still going to the ski slopes or the mountain are you?" More of a statement than a question, as I had told him our destination the night before.
"Of course, why wouldn't we?" I asked.  "Because the volcano erupted last night, it's too dangerous and the whole area is closed!" Yeah, right,  I bet he tells that to all the tourist to freak them out.  He said, "Come on inside the kitchen, it's on the TV!"
New Zealand Volcano Erupts

(AP) September 26, 2007 – 5:54AM

The eastern face of New Zealand's snow-capped Mount Ruapehu volcano is seen coated black with mud and ash.
Photo: AP

New Zealand's Mount Ruapehu volcano has began a sudden eruption, spewing mud down a ski slope and forcing police to close nearby roads, officials said.

The minor eruption yesterday evening on central North Island sent two mudflows, or lahars, down the mountain's slopes, including the Whakapapa ski field, local district council spokesman Paul Wheatcroft said.

A cloud of ash and steam was reported rising about four kilometres above the mountain peak by aircraft pilots shortly after the mid-evening eruption, vulcanologist Craig Miller said.

One lahar temporarily trapped a snow groomer, and two other ski field workers suffered minor injuries, Wheatfield said.

Two other people were reported injured by rocks tossed out by the explosion. One, a 22-year-old teacher, suffered serious leg injuries when rocks crashed through Dome Hut mountain shelter and was flown by rescue helicopter to nearby Waikato Hospital, rescuers told local media.

Two ski lodges with about 60 skiers were evacuated from the mountain before midnight.

Wheatcroft told National Radio that "at this stage it is not a civil defence emergency".

Miller said the eruption was "level 2, minor eruptive activity" and the lahars were a "lot smaller" than one earlier this year which released millions of litres of water from the mountain's crater lake.

He said roads and railway tracks near the mountain had been closed by police….

Miller said the eruption had occurred without any warning.

"Looking at our seismic instruments it was … from nothing to full (eruption) in the space of a minute," he said, adding that such occurrences are "reasonably rare. "

Vulcanologists and conservation staff are to fly over Mt Ruapehu early today to assess the state of the volcano and crater in the wake of the eruption.
There is no way that we are not going to that mountain. We didn't come all the way to NZ to see snow to be foiled by something as trivial as a volcano.  As we drove closer we could see the blackened crater at the top.  Things did not look good.
(click on image for larger view)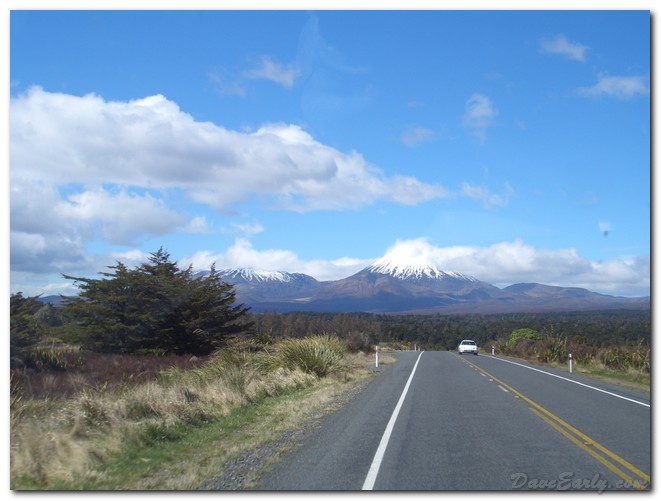 Expecting to get stopped at a road block at any time, we are surprised to be able to drive all the way to the parking area and the lower levels of the resort.
We are told that we cannot go up any higher today, but that they may open more in the next day or two.  Still, this means all is not lost;
Thim gets her first taste of snow……………………
Our luck holds out. The volcano doesn't erupt, the next day we are allowed to return and spend the day.  They allow us to go up on the ski lift even without skis.  The have closed the upper levels of the mountain, but those who brave the lower levels are free to have fun…………and we do!
We had to leave all to soon, as we were to meet the family in a town called Taupo.  This turns out to be the tourist capital of the north island.  Naturally, we find a few more things to keep the adrenaline pumping……………
Continued at "Land, Sea and Air, Taupo"
Filed Under: New Zealand