Yesterday (12-12-2010), I was on my way to check out the final route to a couple schools for a Chiang Mai ToyRide event. I took the Hang Dong Rd, Hwy 108 south from Chiang Mai and at San Patong turned west on Route 1013 toward Mae Wang/Mae Win.
At Ban Kat, I had seen a sign many times before, as I whizzed past (approximately 9km from the 108, that says in English "Shrine of Japanese Soldiers", with the rest in Thai and Japanese. It indicated a turn to the right. This time, after again whizzing past, I did a quick U-turn. Along with my Aussie riding buddy, Tom Forde*, we decided to find it and check it out.
It wasn't too difficult to locate, if you ignore what appeared to be an unlikely location. Later I would learn the reason.
One kilometer down this paved side road was this sign;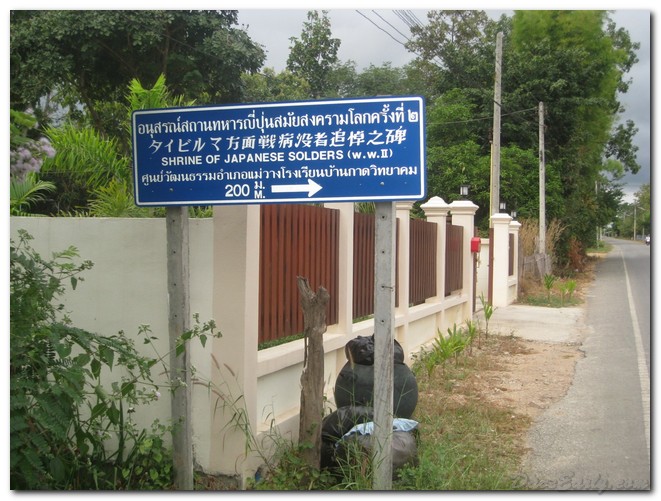 Oddly enough it pointed to the entrance of this school.
I followed the road into the school which turned onto a gravel path. After a short distance, low and behold, there was a bell tower. [N18 36.563 E98 48.844]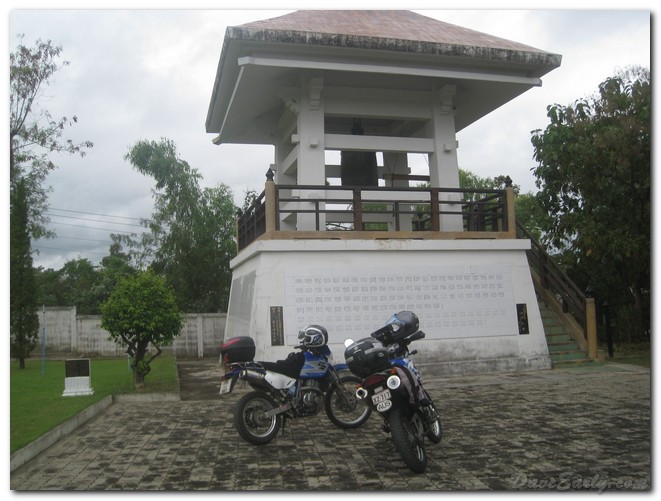 It was not a great day for photos, being overcast and at times drizzle. But, we could see this would be a very pretty location with some blues sky and had the trees been in bloom. Even so, it was quite tranquil and only the voices of school children could be heard in the distance.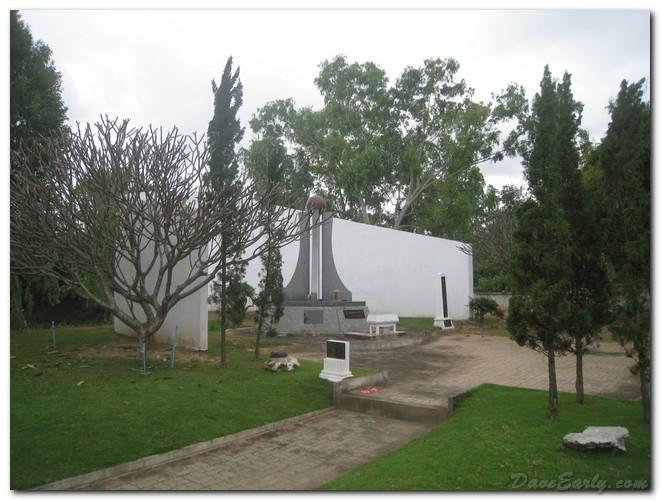 Tom and I had a look around and were puzzled as to exactly what this was all about. It had many bronze plaques and inscriptions, but they were in Thai and Japanese.
I had to try the bell. The "gong" definitely got the attention of anyone within half a kilometer or more. The thickness of the bell, and it's shear weight was quite impressive. We couldn't quite figure out the thought behind some of the cords, added for support or safety, as they would never hold such weight. (I later learned the Bell Tower had been built in 2002 and the bell imported from Kyoto, Japan.)
On the side of the bell tower is the inscription:
A message from those who constructed the bell tower:
Let us assembly here to show our respect for the teachings of Buddha.
During the period, 1941-1945, many people died because of an unnecessary war. This is very sad.
As war veterans who served in Burma and Thailand , we decided to build this monument.
In doing this, we hope to make the best use of their experience: we will make an effort to realize a peaceful world. We hope to meet their expectations.
How did I know that?
We stayed awhile, each with our own questions and conjectures as to what we were actually observing. I had no idea of the significance of this location so I took only a couple of photos to get translated later, and then hit the road to continue our planned loop.
Today, I visited with my friends, Google and Wiki, and learned much more. This is where some of you may tune out and click on the NEXT post, while others will find it as fascinating as I do. The history one runs across, in some of the most unlikely locations, when traveling in this area is amazing. Please read on.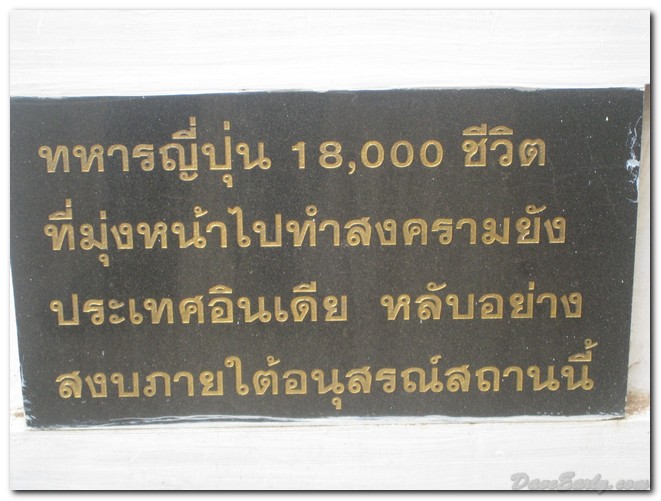 I learned that his plaque says in part;
"Here, 18,000 brave soldiers sleep[erected] by Japanese and Thai Army personnel concerned about the battle at Imphal."
I say in part, because my girlfriend told me it said something about 18,000 Japanese who died in India. I am sure she had no idea of where Imphal is located and neither did I. I found this is another part of history that did not reach our studies in the U.S. and may be obscure in most parts of the western world.
"The Battle of Imphal took place in the region around the city of Imphal, the capital of the state of Manipur in North-East India from March until July 1944. Japanese armies attempted to destroy the Allied forces at Imphal and invade India, but were driven back into Burma with heavy losses. Together with the simultaneous Battle of Kohima on the road by which the encircled Allied forces at Imphal were relieved, the battle was the turning point of the Burma Campaign, part of the South-East Asian Theatre of World War II. Many historians consider it to be the biggest Japanese defeat of the war on land."
http://en.wikipedia.org/wiki/Battle_of_Imphal
From another source;
"The number 18,000 appears in many places in Etou Foundation literature in reference to the total number of remains discovered and re-interred at the memorial. While not impossible, the number is improbable. In 1977-1978, IJA veterans with government support in a very methodical, well organized effort were able to retrieve a total of 1,867 remains from Thailand. Prevailing in most of the areas searched is a wet, tropical climate which is highly destructive to bone. Fifteen years after (1992 and later), a second, less sophisticated effort was made; bone had been in the ground for a total of, say, 45 years; memories had grown dimmer. And searchers at this later date were able to find almost ten times as many additional remains? The 18,000 seems unrealistic. That said, the monument is really for all the IJA personnel who fell in Thailand , Burma , and India : their number is more like 190,000. All 190,000 should be honored at this memorial."
" . . the executive director of Etou Foundation, Shirabe Kanga, a Japanese monk, along with the Japanese Consul General in Chiang Mai at that time, visited the high school, seeking permission to erect a stone monument to the soldiers lost in the Thai-Burma Campaign."
In 1993, the principal of Ban Kat High School offered a plot of land to the Etou Foundation to build a monument to Japanese military personnel who died in World War II.
So why here?
It turns out that the village of Ban Kat was on a major supply, and later evacuation, route for Japanese troops fighting in Burma and Northern India. A large field hospital was erected at this sight and the area became a rest center for troops traveling to and from Chiang Mai.
"A few high-ranking officers rode in on horses or elephants; but most soldiers walked. No one came by motor vehicle: aside from atrocious road conditions ??? in most instances, the "road" was no more than a path, fuel was simply not available between Kemapyu and Ban Kat: some vehicles by virtue of fuel siphoned from stalled vehicles managed to get as far as Khun Yuam area, but not much farther."
It appears that this is quite an important site to many Japanese. The inscriptions on the side of the bell tower are families who donated to it's construction. In Khun Yuam* there is currently, a small but interesting, Japanese war museum. (*Now 2017, an all new building and quite impressive displays).
Rather than my copying  from other websites, if you find this to be of interest, go to the website below. I found the historical information of this small town (and areas where many of us have ridden our motorcycles) very fascinating. It also has the full story of the shrine and a translation of all the plaques and inscriptions. http://lanna-ww2.com/pages/page_1.html
Apparently there is an annual memorial service held here every year.
(Note: the Lanna-WW2 sites seems to be the most informative and I presume accurate account. It points out a few errors in other publications).
One website I found with some of the above info also deteriorated into a rant and diatribe of who should or should not be the subject of war memorials.  History is what it is. There are many sides and versions. The bottom line is; if you lost a loved one, you would like them remembered no matter what country you are from. I post this information only as an attempt to be informative to those interested in the areas history.
(* My friend, Tom Forde, died in a motorcycle accident in Thailand in Sept.  2016 RIP)
Filed Under: Northern Thailand