[click on image for larger view]
A few of us have been trying to find out where and when the hill tribes were having a much talked about downhill wooden kart race. X-Centre staff finally came up with a date of 8 Jan 2011, and a location in the hills about 40km south of my home. I went looking for it, and although not exactly where stated, it wasn't too difficult to find.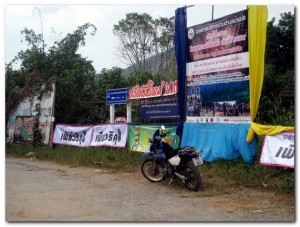 I saw all these signs on the side of the road, and there were row after row of teenagers on scooters heading in that direction. As I went up the road, I also passed many pickups loaded with people in Hmong dress.
It started as a paved road, but then changed to dirt.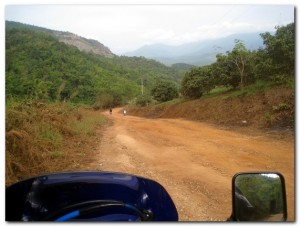 It wasn't too bad, as the locals were doing their usual 2, 3, and 4, persons on a single scooter. Closer to the village they were using water on the road to keep the dust down and it did get a little sloppy.
As I came up on the village I was amazed at what I saw. Without exaggeration. there were hundred's of Hmong people in some of the most beautiful native dress I have seen. And I can say I have been to many hill tribe events, but this was one of the largest. As it turned out, it was Hmong New Year and Hmong from 12 villages were descending on this location. I didn't think I would see something like this so close to Chiang Mai.
There was music and dancing, games, FOOD and more food, and some extremely friendly people. I only saw a very small number of foreigners, and 4 of them were friends from the X-Centre.
But I digress; this is about Kart racing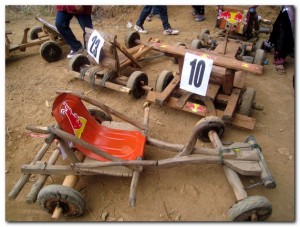 Your basic Kart can be made of only wood, except for the tires (it appears there is an exception to the seat also).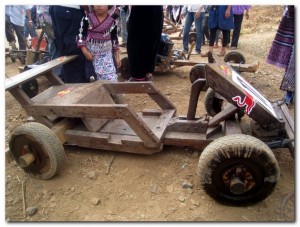 Excessive oiling of the wheels and wooden axles appears to be good thing. Although this piece of lumber, left on the side of the track, found that using a unique hand activated oil pump did not stop the wheel from going it's own way.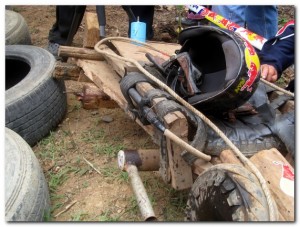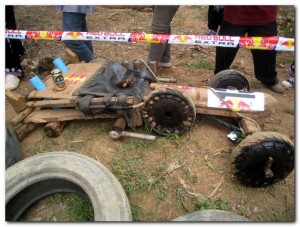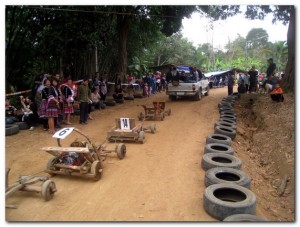 The karts are hauled to the top by rope attached to a pickup a truck and looped through the karts trailing behind. It didn't take long for them to find out that;
a) the rope wasn't strong enough
b) the karts had a mind of their own and following in line was NOT part of their thoughts.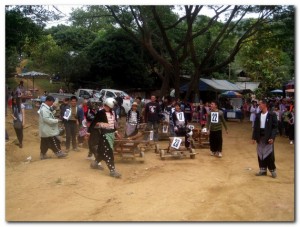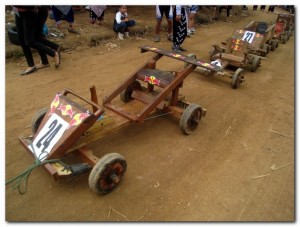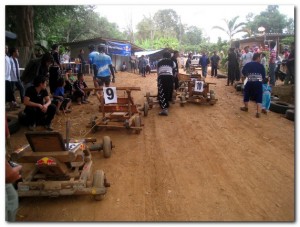 People scrambled to stop the karts as they broke loose and careened backwards down the hill.
Once at the start, the were launched from the top of the ramp fairly rapidly.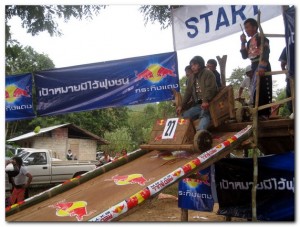 I can't think of many action sports that Red Bull is not present.  For those that aren't aware, Red Bull originated in Thailand.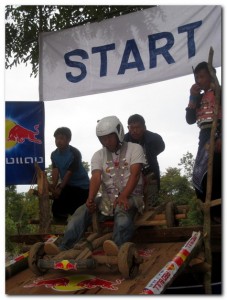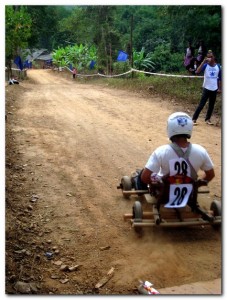 It was the flagman's job to raise a green flag when the karts were released, and a red flag when they were clear. This was to clear the track of all the people milling around on the course between downhill runs.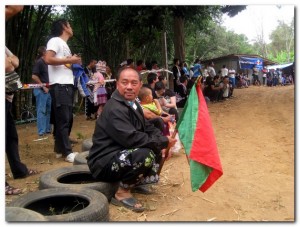 Sometimes he even payed attention.
Then they came………..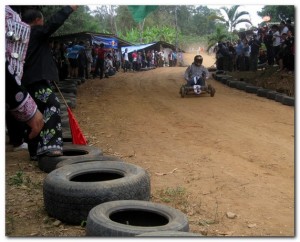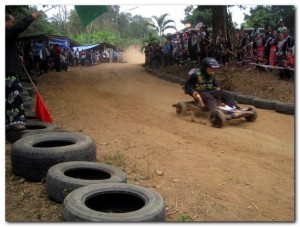 There were many styles and techniques and of course spills.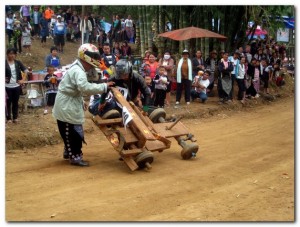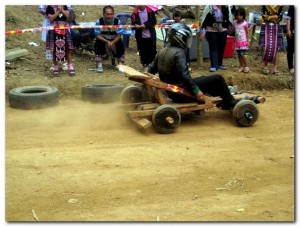 This guy made a pit stop in the middle of the track to replace his wheel. After it came off twice more, he tried to hold it on with his hand as he finished the course.
These two looked as if they decided one would wear the Hmong shirt today, and the other would wear the pants.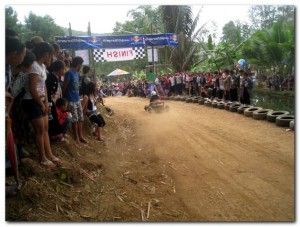 As in all wheeled racing, they fought to reach that finish line with all their effort and skill. They would throw the kart into a final "slide" as they veered around the corner, through the crowd, at the finish line.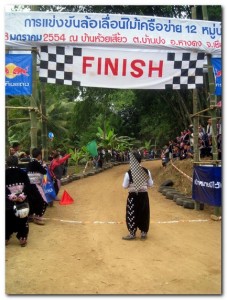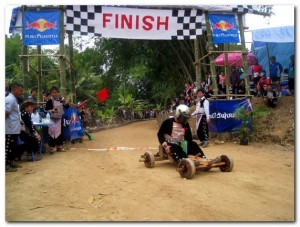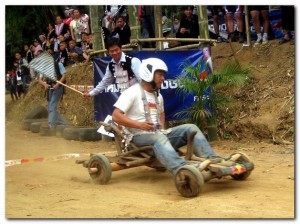 I arrived at approximately 9:30AM and I had to leave at 12:30pm and they were were still going. I wish I could have stayed longer. The whole New Year's event was pretty spectacular.
I have no idea how everyone got out of there. When I left, trucks and cars were parked on both sides of the road with barely enough room for a small car to get through the middle. Some were starting to leave, and many were still coming single file up the road. It was a standoff that I had great difficulty getting through even on the bike.
I hope we can find it again next year as they usually rotate locations!
Filed Under: Northern Thailand • Thailand