***THIS ORIGINAL REPORT WAS POSTED ON THE GT RIDER WEBSITE. I LINKED TO IT FROM THIS PAGE.  UNFORTUNATELY IN A CRASH OF GT RIDER ALL PHOTOS AND THE ENTIRE POST WAS LOST. I AM WORKING ON RECREATING THIS POST. SORRY.  LESSON LEARNED;  ORIGINAL HERE, COPY TO OTHER SITES. 

I think you will get an even better feel for the country in the report on my SECOND and longer trip to Myanmar here: On the Road to Mandalay
*******************************************************************************
Narrative by: Dave Early & Ron Webb
Photos  by Dave Early
Crossing the border by motorcycle and most private vehicles, into Myanmar has been forbidden for decades. With a new constitution, and changing political  parties, the possibility now exists. Being part of one of only three groups of motorcycles that  have been allowed to enter,  as of this writing, our trip report follows.
The idea of taking bikes from Thailand to Myanmar has been the dream of many, not least Armin Schoch and Luc de Waegh. These two guys have lived extensively in both Thailand and Myanmar, are both well traveled, are motorcyclists and have excellent contacts in both countries and so I guess its not surprising that about ten years ago they discussed the plan; a dream at that stage if you will, to get their bikes over the border and go for a ride.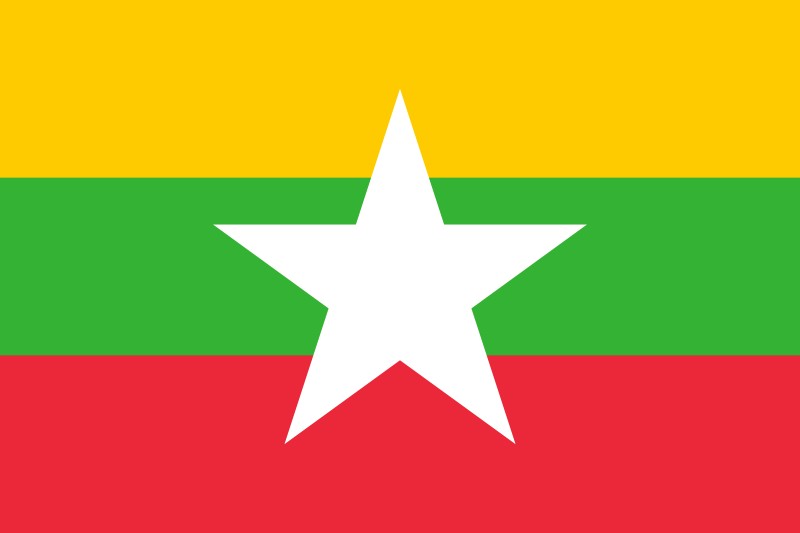 In April 2012 Armin approached his contacts in the Myanmar government as the timing now seemed appropriate to put some feelers out once more, for the possibilities of such an idea.
The response was  positive and so with his contacts and business partners in Myanmar, Armin persisted.
In November of last year Armin sent a mail to some like minded mates to see who was up for it.
So Luc, Ian Bungy, Horst Engelking, Stu Lloyd, Ron Webb and I, began our preparations.
I have posted on GT-Rider the process side of things, which I can only say required a ton of photo copies of just about every official document that I have ever possessed but Armin was the conduit to get all that stuff into Naypyidaw (Capital of Myanmar) for approvals, permits, licenses and the like.

http://www.gt-rider.com/thailand-mot…957#post286957

(It was with Armin that I also had the adventure in 2010 of being one of the few allowed entry to Vietnam by motorcycle.)
The idea was simple; to have a ride through everyday Burmese life. No rushing to the popular destinations, just ride in a select area where tourists, for the most part are few, and see what happens.
And so on Sunday the 13th Jan a group of us met at Mae Hia, Chiang Mai and headed off to Mae Sot, Thailand.
The bikes were; Armin BMW Dakar 650, Horst BMW 1200GS, Luc BMW 1200GS, Dave Suzuki DR 650se and Ian, Stu and Ron on a Honda CFR 250L.
The meet and the start of an adventure
Our route was to go through Mae Chaem and up to Khun Yuam to meet Horst and because its a lovely ride to go that way.
After a hilarious dinner (the first of many) and the night in Mae Sariang we rolled down to Mae Sot the next day.
Ian elected to ride straight to Mae Sot and so met up with the rest of us there
The next day was to be the day of truth. Would all the photocopies, permits, visas, licenses chops and stamps do the business?
So off we headed to the Thai immigration and customs. Actually the process on the Thai side was extremely quick and easy, I am sure aided by the fact that Armin found a Thai immigration officer who was exceptionally helpful. All done and so off for a ride over the bridge where in the middle, one changes sides. Myanmar drives on the right hand side of the road.
At the other side Steve, our guide,  took all passports and was back in no time. All done! We were in.
First stop was a tea shop to hook up with the local crew and get our gear into the support vehicle.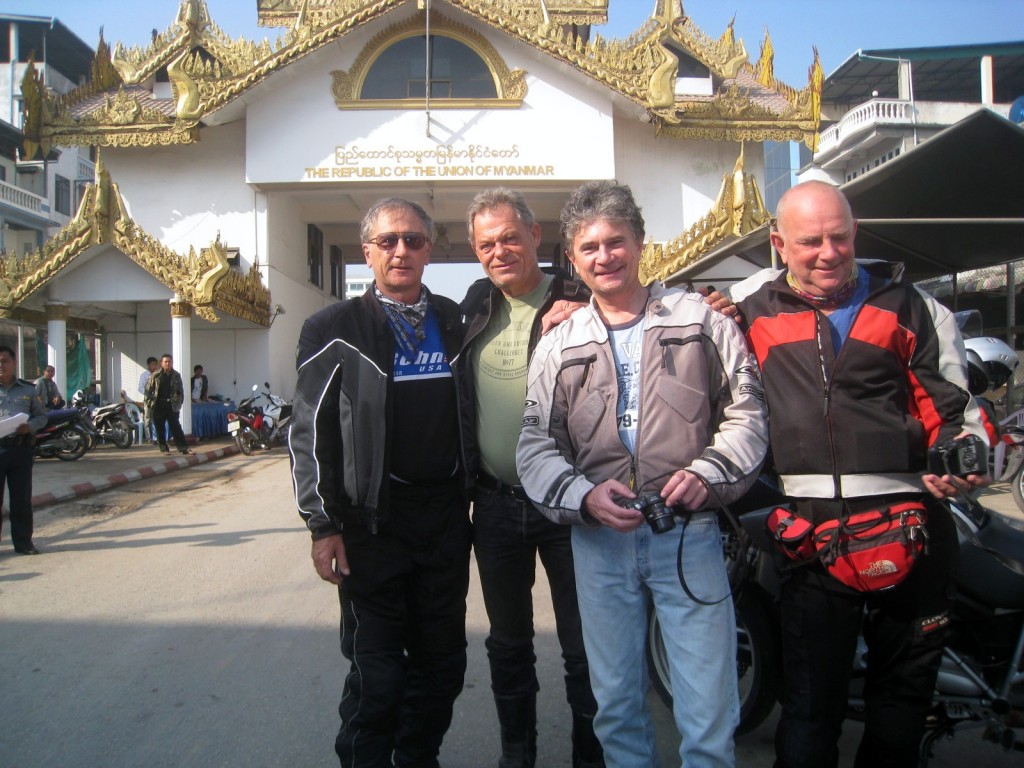 Dave, Armin, Luc and Ron looking very pleased.
A view from the tea shop of the rather chaotic traffic on the Myanmar side
So we get a briefing of what's to come for the day. Myawaddy to Mawlamyine – down the road for ten k's or so and up and over the mountain. The traffic on this road alternates in direction day to day as there is not enough room for two way traffic. Cool, this should be a nice scenic ride!
This is as good as the road gets.
but for the most part it was more like this
I don't think we will have many shots of the mountain. Its hard to find a spot to stop with all the trucks and buses. There is also so much dust that you really cant see too much more than a few feet ahead. Needless to say its chaos. About 50 kms I believe up one side and down the other. That took about three hours!
Now, at this point, bear in mind that this is the road that all imports from Thailand travel. Millions of bottles of beer, drinks and whatever each day. No wonder this road is smashed to death.
Also along the way to directorate the road side, one comes across smashed up buses and trucks abandoned as they no longer have any use. Sobering indeed.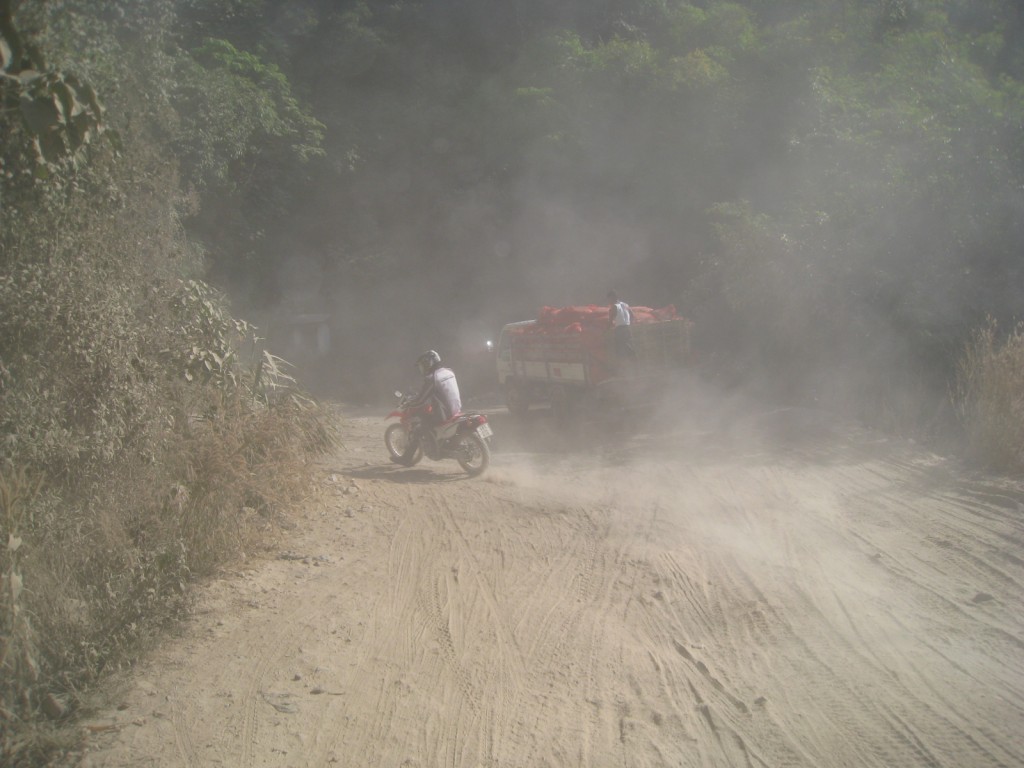 We were escorted over the mountains by police on scooters on our first day.  They dropped off once we hit flat land.  We also had a police escort for part of the day around the war cemetery and Setse Beach area.  No idea why, except I think they actually enjoyed it.  Every time we entered a populated area, the traffic police stopped traffic for us to go through.  The could always be seen talking on their radios and always seemed to know where we were, even though we were not keeping any type of schedule and often quite spread out.
On our return trip over the mountains to the Thailand border. we had no escort, except to be followed at a distance by our support truck. Again, I have no idea why.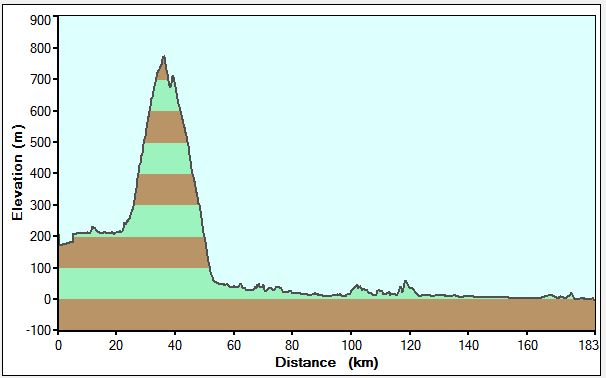 Elevation Change Crossing the Mountains from Myawaddy from my GPS.
After the mountain its pretty much flat but not without some entertaining sights along the way.
Road works…
the tar men
and finally the road becomes clearer and smoother
bridge over the Gyaing river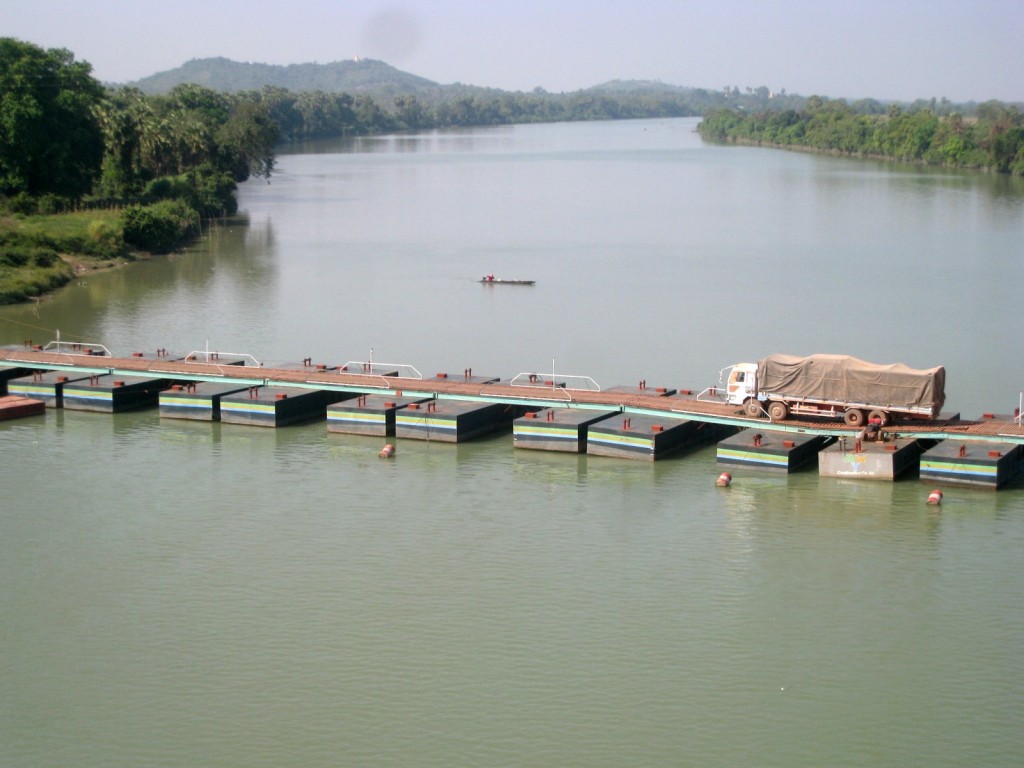 our bridge over the same
looks like a Le Mans start
various drinks stops on the way provided photo opportunities
Eventually we arrive in Mawlamyine at the Strand Hotel. What a top spot on the river.
and very quickly the beer garden to wash the dust down
and finally, much needed solids…
Day 2 in the Union of Myanmar
The brief for the day was to ride a loop through the countryside to Thanbyuzayat to visit the war cemetery, to the beach at Setse, Amhurst (also called Kyaikkami) which was the seat of the British Army HQ controlling lower Burma after the first Burmese war (1824-26) and on to Kyaikkami Yele Pagoda.
Parking at the Strand Hotel
Early morning at the river front
and the bridge from Mawlamyine to Martaban which we were to cross the following day
and the back up vehicle driver doubling up as bike cleaner
Leaving the hotel we witnessed an express delivery of timber
The first strop for the day was in fact a visit to the giant reclining Buddha at Mudon. HUGE….
with long lines of monks
Our Honda CRF's taking a break at the Buddha
and so on to Thanbyuzayat and the war cemetery. Fuel in bottles was available all along the road, with actual gas stations few and far between.
Riding around here was a real treat with the roads mostly to ourselves
and the locals going about their business
The war cemetery is beautifully maintained as with all in SEA that I have seem. I real pleasure to visit.
A quick look at the railway station that was the last stop on the Burma 'death railway' during WWII. This is the western end of the railway that was made infamous in "The Bridge Over the River Kwai" in Kanchanaburi, Thailand.
The final resting place of an old British locomotive that must have been commandeered after capture by the Japanese
Then on to Setse Beach for lunch. We had an escort for this part of the trip cos, well, you never know do you?
The boys
Packing a WWII Stengun and a WWII Remington, Now that's good old fashioned fire power…..
Setse Beach is a popular spot for the locals and Yangon folk for a day by the sea. Its a bit like Hua Hin on the Western seaboard of the bay on BKK for those who know that. Horses for rent for a run up the beach and seafood restaurants.
the ubiquitous snack sellers abound
Lunch was a good seafood spread then on to Amherst to have a look at the old British stuff, whats left of it
A typical Amherst house
and then on to Kyaikkami Yele Pagoda which stretches out to sea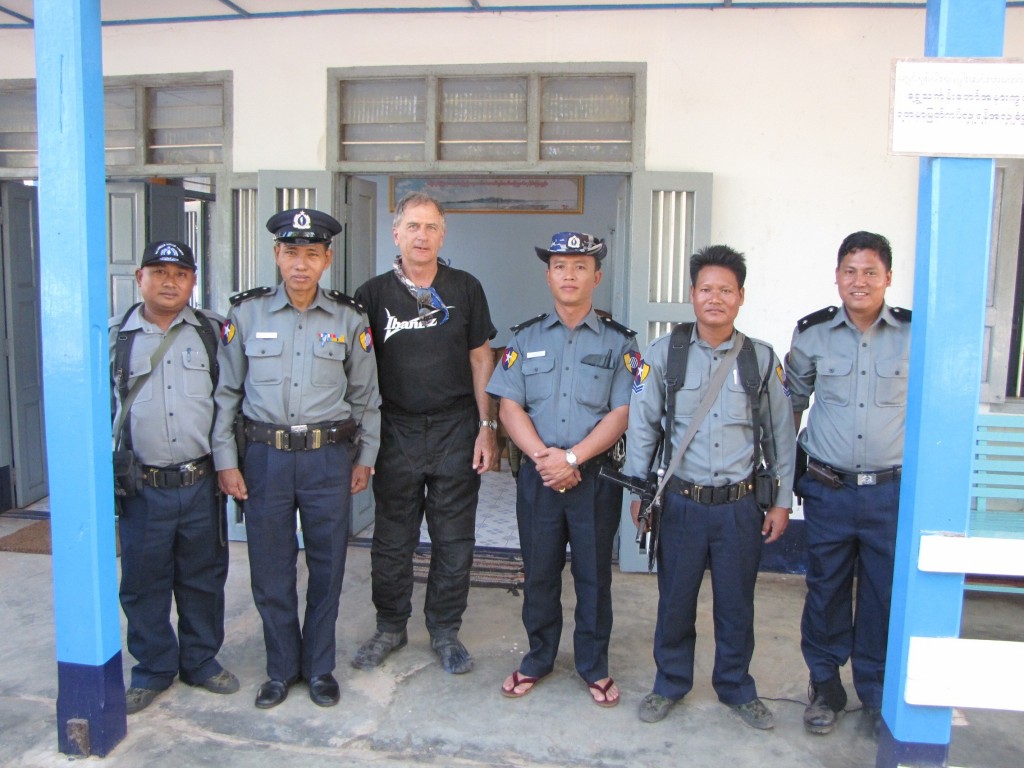 These guys were sitting in front of their police station.  When I told them I was also a police officer, they invited me inside, offered me a drink, and happily posed for some photos.
Finally, on the way back to the Strand, we stopped by the lookout to watch the sun go down.
It was also time for refreshments after a hard cultural day
We found these two boys and girl to be 'hanging out' at the viewpoint. Apparently brothers with their sister, obviously impoverished. They were not actively begging, but were interacting with us and gathering our empty cans.
At one point I handed the youngest boy my can of soda. He took a short drink, and without hesitation carried it over to his sister and gave it to her.
I found this quite touching and sad at the same time.
Day 3 in the Union of Myanmar, Golden Rock and Kyaiktiyo Pagoda
The Golden Rock and Kyaiktiyo Pagoda are said to be the third most important pilgrimage site in Myanmar. The granite boulder is 15m in circumference and 7.6m in height. It sits precariously on the edge of a rock, with an altitude of 1,090m. There are various versions to the legend of how this rock reached the site, but they all end in the belief that it is held in place by a hair of Buddha. A popular version says the rock was carried there by a boat which then itself turned to stone. Google! It is an interesting tale.
Note that measurements and distances seem to vary between different sources.
It is believed to have survived numerous earthquakes and in recent times the stupa on top of the rock fell to the ground but the rock stayed in place. Believers say that once you see the rock you will become a believer in Buddhism. It is also believed that three trips to the rock in a single year will bring you wealth and prosperity. Worshipers purchase and place small pieces of 'gold leaf' on the rock, thus giving it the gold color.
We were told by our guide and resident Burma experts that we would board a truck which would take us part way up the mountain, approx 1hr, and then we would be required to walk the remaining 3km+ to the top. It is to be a very steep climb, and for those that can't make it, porters can be hired to carry you to the top. This is the same information found on most websites ( I have been walking everyday for the last month to get in better shape).
With this information fresh in our minds, only Ian, Stu and I decided to accompany our guide on the trek. We are packed into the back of an open six wheel truck/lorry for the climb to the top. It takes an inordinate amount of time because the road is a single lane and is controlled like a railway. Trucks must wait on a siding for trucks coming down to pass. It is a steep and winding climb.
We reach a staging area in sight of the top, where our guide disembarks and comes back a short time later. He says this is where the trek normally begins, but he has arranged for us to ride to the top. "What?" He must have arranged it for the whole truck load as nobody got out.
In reality, it seems that you now have a choice of trekking up for your pilgrimage, or simply riding to the top where you only have about 500 meters to walk to the rock and pagoda. This walk is of course surrounded by souvenir shops, food and even a hotel with a great bar.
We take off our shoes, and enter the large marble plaza lined with religious displays and people worshiping.
This is true at all Buddhist sites in Myanmar. Also, you must remove your shoes before entering temple grounds, not just the temple area itself. There is a story that a woman, dressed as a man, entered the holy area and touched the rock. The sky instantly clouded over and a fierce storm ensued.
The women do their meditations on the walkway below the rock.
Can you see the elephant?
The "rock" is truly breathtaking and it IS hard to understand what can possibly be holding it in place.
Our ride back down the mountain is almost as spectacular as the rock itself. On the ride up we had the VIP seat in the front row of the truck. I decided I would try riding down seated in the last row and mingle with the locals. I don't always make wise decisions. We waited a long time for the truck to become full when suddenly, just before sundown, whole families climbed, pushed, shoved and squeezed their way into the truck. Surrounding me were men who were not exactly what you would call hygienic. and a couple ladies with coughs and sneezes.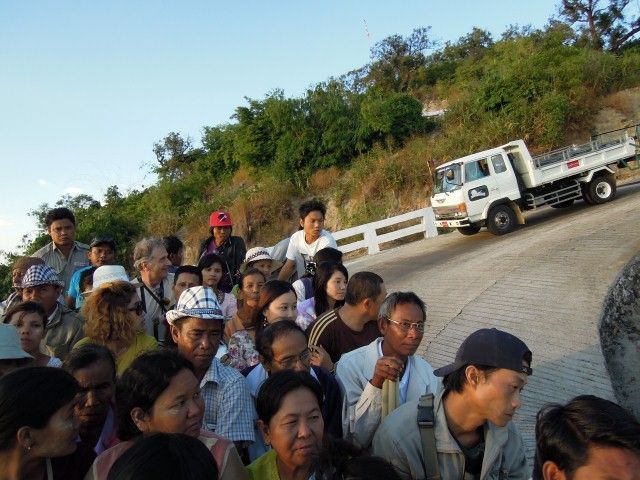 A lovely young Burmese girl and her baby sat next to me after her husband reluctantly gave up his seat and perched on the luggage behind us. She immediately began breastfeeding the baby. Thrown together in what could be called intimate ways as her husband scowled from behind. she steadfastly clung to my leg for a handhold as we careened down the mountain, with air brakes hissing and rpm's racing on the twisting 'roller coaster' ride down. I gave them my unopened orange soda when we reached the bottom and he seemed appeased.
This young lady greeted us near where we parked our motorcycles, and welcomed us with the perfectly rehearsed statement "Toilets, no money please!" Welcome, indeed!
Oh yeah, two days later I came down with a cold and cough.
After Golden Rock we drove to a strange hotel a few kilometer from the base camp. It was huge with many seperate bungalows and it's own roads. It had a swimming pool, restaurants and even it's own zoo. It was quite full of Asian tourists (the hotel, not the zoo). :problem:
They had a leopard, a number of Sun Bears, Gibbons, Ostrich, Deer, reptiles and birds. Quite strange.
DAY 4, GOLDEN ROCK TO BAGO
From the base camp of The Golden Rock we had only an 80km ride to the town of Bago (not to be confused with Bagan). Bago is located approximately 80km north of Yangon. We checked into what was the only, shall we be polite and say, 'poor quality' hotel we stayed in. It was supposedly also the only hotel. It is the only place we had any type of 'incident' on the trip. More on that later…
We decided to jump into our trusty support truck to do some sight seeing. The locals found this quite amusing to see the westerners riding around in the back of what looked like a jail, or immigration detainee truck.
The Shwethalyaung Buddha is a reclining Buddha in the west side of Bago (Pegu), Burma (Myanmar). The Buddha, which has a length of 55 m (180 ft) and a height of 16 m (52 ft), is the second largest Buddha in the world, after the 74 m reclining Buddha in Dawei (Tavoy). The Buddha is believed to have been built in 994, during the reign of Mon King Migadepa. It was lost in 1757 when Pegu was pillaged. During British colonial rule, in 1880, the Shwethalyaung Buddha was rediscovered under a cover of jungle growth. Restoration began in 1881, and Buddha's mosaic pillows (on its left side) were added in 1930.
http://en.wikipedia.org/wiki/Shwethalyaung_Buddha
When we came out of the temple, those that chose to wait in the truck were being accosted by all the local tauts.
The Shwemawdaw Paya is a stupa located in Bago, Myanmar. It is often referred to as the Golden God Temple. At 375 feet in height, the Shwemadaw holds the record for the tallest pagoda in the country although the Shwedagon Pagoda in Yangon is usually credited as the tallest pagoda in Myanmar (at 98 meters – approximately 321.5 ft). Shwemadaw, along with the Shwedagon and Kyaiktiyo, are famous Mon pagodas.
http://en.wikipedia.org/wiki/Shwemawdaw_Paya
In the evening we had dinner in a great restaurant in view of the Pagoda with a terrific Burmese band.
Day 5 Bago to Hpa An
In the morning I came out of our hotel and found missing from my bike, a camera case (empty), a bungy safety net, and a can of chain oil. Others soon followed;
Ron was missing a tank bag, and the chrome valve stem caps were taken from Ian's bike.
Stu had left his 'helmet' unsecured on the bike. I say helmet, but some of us thought it would better serve as a flower pot.
The manager of the hotel and our guide were quite upset and notified the police and called in their security guards from the night. They were all quite apologetic and equally embarrassed. The manager made the offer to take Stu to the local market where they bought a new Index helmet. I think Stu came out ahead on this one!
At first I wasn't going to even write about this incident, but I think the response from the management and police should be commended. In the end our loss was trivial, and we in fact had become quite complacent about leaving things on our motorcycles overnight. It could happen anywhere. Many places would have probably just said, "Too bad" and sent us on our way.
We rode to our hotel on the Salween River in a town called Hpa An.
Another beautiful hotel located at the base of a limestone karst.
Our final sightseeing took us to a small temple located on top of a tall out cropping called Kayukelat Paya. I can't find much information on this, but there was a small temple near the top and the very top could be accessed by ladder. It was another beautiful sunset.
Final Day
On day six, we left the hotel around 6:30AM and had a swift but nice ride all the way to the border. We actually made better time, and an easier ride, because we did not have an escort and could ride at our own pace. I believe we were at the border somewhere around noon. Soon after our arrival in Myawaddi, our guide and support truck showed up. The truck made remarkable time with the crew smiling and laughing as they arrived. (I haven't quite figured out why they felt we needed an armed escort for this road coming into the country, but not when leaving).
Our guide, Steve, quickly processed all our Myanmar paperwork, and before we knew it we were back in Thailand. We processed ourselves without problem on the Thai side, shook hands, and mostly left in different directions. It all seemed like we had just lived through a dream, and it was taking a while to wake up.
Note: This is just a small sampling of what can be seen in Myanmar. We rode only approximately 1,250km in the country itself, avoiding large cities. There were reports the other group allowed into Myanmar rode into the night, as late as midnight, just to cover longer distances. That was not our plan. We will be back!
A Few More Photos from the Road
Photos in this trip report taken by Ron Webb, Ian Rauner, Dave Early & Stu Lloyd.
Our Fearless Support Vehicle
These are wooden wheel chocks. Sold along the road to the buses and trucks. The assistants quickly jump out and stick them under the wheels when stopped crossing the mountains.
Dried Fish and Eels.
Filed Under: Burma / Myanmar