Wed. October 11, 2006

RIDERS: Silverhawk (Dave E.), Big & Tall (Justin) Pikey (Jeff), SuzukiLuke (Luke), BarryBBQ (Barry)

WEATHER: Overcast, Rain, Drizzle, FLOOD.
ROUTES: 118-1252-4074-1317-118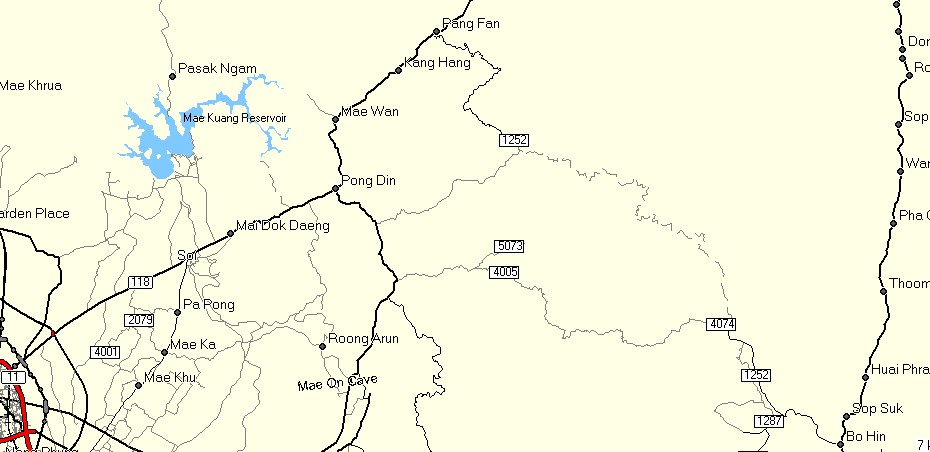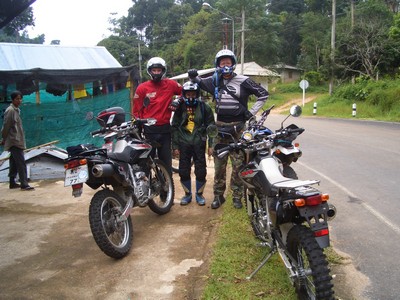 Luke, Barry, and you can figure out who is in the center.

I have written about 1252 many times as you can see above. BUT, I did predict that one day it would be a great loop and now it is. They have paved 1252 for it's entire length.

Take Hwy 118 (Chiang Rai Rd) and the turn off is approximately 40 kms from the Super Highway on the right(N19 00.982 E99 18.270). The turn off for 1252 is not marked by a road number but by overhead signs pointing to Chae Hom. The right hand turn is just after a left hand curve and bridge which makes it easy to miss. It is just a small road that actually doubles back parallel to 118 before making a left curve and then heading what feels like straight up the mountain.

The road winds through some of the fullest "rainforests" in the areas and some just gorgeous views of the mountains. The last time I did this road was in June 2005 so the asphalt was completed since then. It is already suffering from many areas that have been covered and partially cleared by mudslides and road erosion but is doable on any bike with some caution.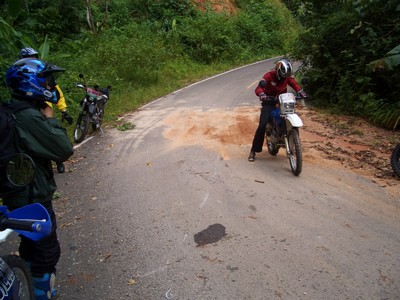 The scrapes on the road only tell part of the story. I have never seen anyone's leg bent like Luke's, but when we pulled the bike off he jumped up only complaining about his hand and some road rash. Must be that Yoga.

The "discovery" of Hwy 4074 now makes it a GREAT loop. APPROXIMATELY 40 km along 1252 is a turn off to Jaeson (Chae Son) National Park and hwy 4074 (N18 49.741 E99 29.744). You will immediately come to entrance gate to the park. Tell them you are just passing through and heading for Chiang Mai and they won't charge you what is now posted as "Foreigner 400Bt" (ridiculous fee). When you clear the park stay to the right and you will come to a bridge followed by and uphill. Unfortunately for us the bridge AND the road was now a roaring flood.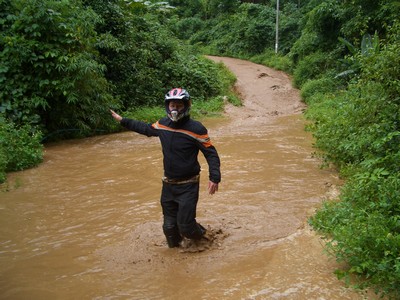 Jeff was the first to try to walk on water, we were just waiting for that hidden sink hole.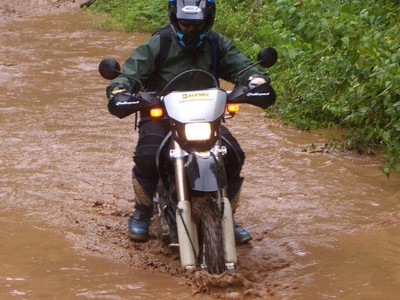 Justin was the first to prove it was crossable but was almost swept away by the water at the top of the hill. When everyone else it at the bottom waiting "It's lonely at the top".

We did make it through and found one of the most desolate paved roads, twisting and climbing back through the mountains, that I have been on.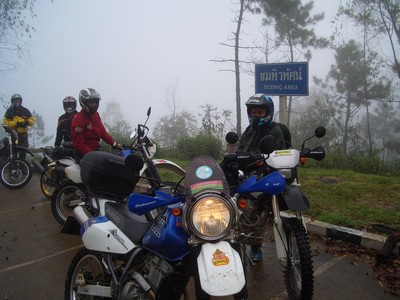 Great view, when you can see

Hwy 4074 twists back and connects with Hwy 1317 (N18 51.588 E99 16.530). A right turn takes you back to the 118 or a left will lead you to San Kamphaeng.

Now due to the rains the roads are dirty and wet. Once it dries out a little this will be one of he best day trips in the area. It took us almost 7 hours but that was due to food stops, waiting for rushing waters to subside and an incident that now may change Luke's moniker to "Cool Hand Luke" (hope all is well today, Luke. I see you are able to type at least). Total was about 150km. Actual riding time (according to the GPS was just under 4 hours).

I will leave the color commentary to be added by my riding mates. Enjoy.


Dave Early

Ever notice that "What the Heck!" is usually the right answer?

Replies:
---
Reply author: pikey
Replied on: 12 Oct 2006 14:23:19
Message:
OK, Dave, here's some colour commentary and I hope more is added as I didn't take too many pics. The weather yesterday was changeable, a little sun but mostly heavy clound and intermittent rain which left the surface slippery as Luke was to find out. Tip Luke: don't ride a Baja 250 on loose surface like it was a Gixxer on a track! ;-)

Pic below is close to the Kampaeng Din junction where we stopped for a fag break and to suit up against the now falling rain:


Apart from Luke's unfortunate get-off the ride was pleasant and uneventful travelling through some serious rainforest, sometimes in sunshine, sometimes in rain and even in the clouds at higher points. Talking of rain, this is what faced us as we rounded a bend in Jaeson N.P:




Fortunately(?) Luke had crashed earlier and was more restrained. If he had been leading, I think he would have not had the chance to brake and had an early, and dirty, bath! At the time it was still raining and runoff from the mountain was cascading down the "road" in a substantial torrent. Now we were faced with a choice - do we double back onto the 1252, or do we wait and see if the water subsides enough to see if we can continue.

Me, being the impatient type (and somewhat reckless maybe), decided to "take a peek" around the corner so tentatively set off to wade through the knee-deep water and up the hill to see what awaited us: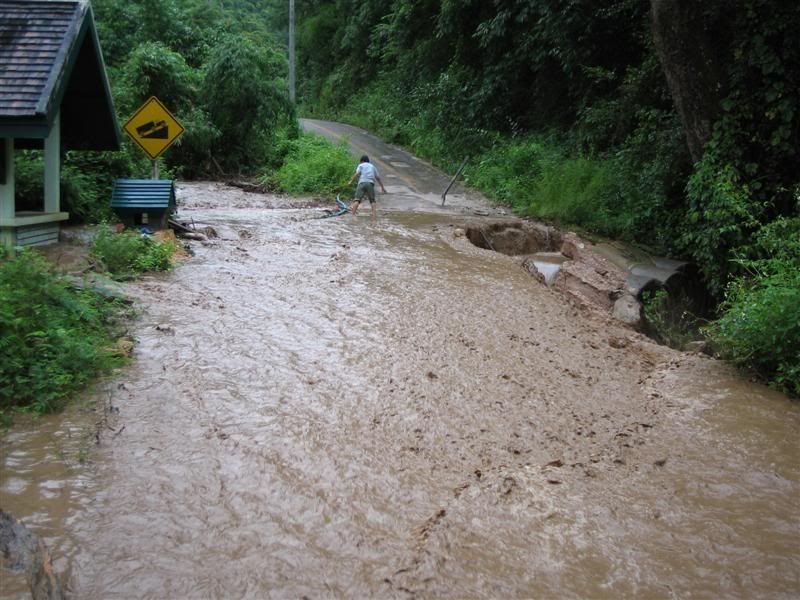 Hmmm, maybe we should wait a while...... OK, we waited for about 20 mins and amongst our motley crew, there were now a couple of Thai guys and an "old thing" of indeterminate sex. The Thai guys recce'd the route on foot as I had done previously, then returned, one of them fired up his Sonic (a street cousin to the Tiger) and went for it. OK, he didn't reappear so we took that as a sign to give it a go ouselves. Me, with the least to lose (cheapest bike!) went first and it wasn't too bad, a bit of pressure from the water on the front wheel but no great drama.

Here's Barry doing the same on his XR:




After we were all safely through, we rode about another 40km, again, up and down through great rainforest and a few more stream crossings via fords.

OK, that's my take. Maybe the other guys will pitch in with a few more comments/pics? Like Silverhawk says, a great new loop and in the dry season, fun on pretty much any bike.

Cheers,

Pikey.

"No matter how hard you try, you CAN'T polish a turd!"
---
Reply author: Big & Tall
Replied on: 12 Oct 2006 23:55:49

A tip of the hat must go to Silverhawk for suggesting this loop. It sounded interesting and we wouldn't know what to expect as we weren't sure if it was pavement or pavement and dirt.
David enjoying the views

I think we've all been influenced David U and his late morning starts. No up with the birds with this group. This was fine with me as a karaoke Bar and rain kept Luke and I out riding until midnight the night before on a visa run to Mae Sae.



We were all on 250 four stroke enduro bikes except Jeff on his mighty roaring (or is it wheezing) 125 Tiger. Motoring along the 118 at 80 kph is new ground for Luke as we spent yesterday blasting along at 180 and him at 230 KPH on sport bikes. Luke only knows WFO so broke up the monotony of riding on the needle jet by doing his yoga exercises on the bike while riding. We have to give Luke credit here as his antics will come in handy later in the ride. Riding at a sedate 80 I also got to see some pretty scenery on the 118 that at 180 kph went by unnoticed.

To add to David's detailed description the turn off from the 118 to the 1252 has a small cement pyramid on the SW corner of the intersection with 1252 painted on it for reference. But it's too small to see while riding.

The road gained elevation rapidly in a twisty series of turns. This proved humorous for everyone but Pikey as his wheezing (not roaring) Tiger was having its throttle cable stretched by Jeff searching for its entire 4 1/4 HP. To add to the joy the thing would pop into some false neutrals causing him to lose steam as quick as a 70 year old on a bar girl. He would do any country western band proud with his foot stomping on that lever and you'd think he had Clint Black on an MP3 player or something with all the foot stomping..

Silverhawk and I ogling.

As the others stated the roads were slick with rain and as we all had knobbies the pace was moderate. However this road in the dry would have to rank up there as one of my favorite short loops. The combination of fun turns and gorgeous scenery that was evident even on this gloomy day would make it highly recommended.

The recent rains caused debris galore on the roads including the landslide sign that had been knocked over itself by a landslide

Our group had been gathering lately to watch the moto GP's and Luke has been especially influenced watching the talent. Seeing those guys pass under late breaking and watching Rossi do it with ease provided some motivation. Sadly motivation was not enough to keep poor Luke's front tire connected to the pavement in one wet dirty corner. I was riding behind Luke and could see he was lining Jeff up for "the Rossi pass" on the brakes. He swung wide for an outside pass, I'm sure he could hear the crowd roaring, and through it in deep and hard (its why his GF likes him). However the dirt in the corner lacks the fondness his GF has and when my poor vision is enough to see a tire go from fluid motion to frozen lock up you know its gonna get ugly. Sadly his corner technique went from Rossi good to Gibernau bad in about two feet and down he went. Poor Jeff provided heroics wrestling his Tiger away from running him over.
Jeff rides his tiger flat out everywhere, ringing its neck however causes jeff to buy Farang priced gas from drums in the hills.

I've gotta say when I went over to pull the bike off of Luke his leg was contorted in such away that it looked broken for sure. It was twisted in a way that even my ex GF gymnast would not be able to replicate. So take Luke's advice and practice your yoga. Luckily adrenaline is a fantastic substance and as soon as Jeff and I removed the bike he popped up like a jack in the box toy and was ready to ride again. Thankfully he was able to ride though he was now the master of the casual pace.

The road once we passed through the national park got narrow and even twistier winding through remote village's roller coasting up and down. Great stuff.
The rains reeking havoc on the road

It got more interesting when we rounded a corner and found the road disappeared into a pond and the other side of the pond was a waterfall instead of road. The water was about 6-8" of fast flowing water washing debris down into the pool. We milled about discussing our options. Since the other side of the road rose steeply out from the water we did not know how deep the water crossing was. Jeff was kind enough to volunteer to get his feet wet and play in the mud (I think it's a fetish thing) and water to check out the water depth and what was round the corner. It turned out that the real challenge was to be round the corner.
Standing next to one of the quirks of riding in Thailand.

Since I had the newest shiny bike it was in need of some thrashing. Barry pulled me aside and egged me on with, "hey, don't worry it's a rental". Those words have led to the pummeling of more rental cars in my past than I care to remember. The crossing was a breeze however what was around the corner was something my ex wife must have put there for me. Water was once again crossing the road but at a very high velocity. This time there was a four foot drop off that the water was flowing over. Barrybbq's words were still in my brain so I did not stop and continued across. This is where I should have sent Barry across. He's three time bigger than I am and therefore harder for water to move. Barry probably needed a laugh so egged my midget ass into going first. Sure enough once I planted the front wheel in the torrent the hand of God came up and started washing my front tire 90 degrees to the right and down towards the drop off. My butt sucked about 3 inches of seat cover in fright and I jumped off the bike and grabbed the rear rack and fender. I felt like I was dancing with the high school fat girl as I was holding onto the bike that weighs twice as much as me and the water swept it 90 degrees and was trying to pull it out of my hands. All this drama was going on out of ear and eyesight of the group and I had visions of being washed over the drop-off, drowned and buried by my XR 250. This would suck as I had not yet visited the massage parlor that Luke had been waxing on about

crossing back after the recon and bike dancing.



I gathered the bike back and road back down and across the pond crossing. I of course embellished the difficulty of what lay ahead and polished my ego with tales of bravery and treacherous conditions ahead. The group called BS on this and we decided to wait for the water level to drop then cross. As David stated about 1/2 hour later the water receded a bunch and a Thai gent went for it on his scooter. Causing grievous harm to all our egos. We then all crossed and continued on our way.
Silverhawk crossing in style.
Jeff drowning his cat.
Luke pimping his Pippy Longstocking jeans for the crossing.
Barry making his XR 250 look veeeeery small.
The road at this point gets even tighter and climbed up through the fog and rain, Barry recorded an elevation of about 1400 meters. It wound through a handful of other stream crossings and small villages. It started to stink by then and I just thought it was Barry's digestive system working through breakfast. But there were more buffalo feces on this road than I have ever seen.
True words by anybody's definition. Luke and Jeff realizing JUST how cool it is in the mountains.

A steep decent led us to lunch at a gorgeous resort named Tharnthong Lodge. A beautiful setting nestled amongst the rainforest owned by a very caring farang. We all vowed to bring our wives/GF's to score much needed brownie points. I had some excellent Italian food with a desert of homemade berry ice cream. A delicious treat for this manky bunch.
Barry and David enjoying lunch.

Luke's wrist was acting up and giving him grief. However mother Barry had some sympathy and helped Luke get dressed and buttoned back up. Barry is just lucky my camera was buried at this time as he looked like a concerned lover.

Again hats off to Silverhawk for coming up with the loop and being the pied piper leading us through. This loop is recommended as a great ride close to Chiang Mai. All it needed was a karaoke bar and it would be perfect.


Cheers all.

---
Reply author: SilverhawkUSA
Replied on: 13 Oct 2006 00:15:54
Good stuff guys, Thanks.

Food for thought.....
quote:
---
Floods claim three more lives in North

BANGKOK: -- A family of three was swept away as flash floods hit the northern province of Mae Hong Son on Thursday, raising the death toll to at least 42 persons nationwide as floods continue to wreak havoc in many provinces in the North and Northeast.

The bodies of a man and his daughter were found, but the woman has not been found. The family was carried away by the flood as they rode a motorcycle home in the provincial seat.

In Chiang Mai, Doi Angkhang in Fang district, ravaged by a flash flood five days ago, was hit again by forest run-off after a night of new rain.

No further damage was caused, but the storm delayed rehabilitation operations. Piles of mud and wood were swept away to villages by the new round of flood.

Sandbag embankments were built to protect local communities from further flooding. Road access to Doi Ang Khang has been cut by new flooding, and residents in Fang are warned of further possible forest torrents.

In Phichit, some areas were cut off from the outside world as some 20 bridges were destroyed. Damage is estimated at Bt20 million.

In the Northeast, three districts were hit by floods and people living along the Mekong River have evacuated their belongings to higher ground as the level of the river has been increasing rapidly.

In Kalasin, overflowing water from the Chee River has flooded paddy fields. Farmers will receive compensation from the local authorities or the Agriculture and Cooperatives Ministry, according to the assistant district officer.

In Nong Bua Lam Phu, rains have stopped but if floods threaten to damage to about 8,000 acres of paddy fields.

--TNA 2006-10-12
---
Dave Early

Ever notice that "What the Heck!" is usually the right answer?
---
Reply author: SilverhawkUSA
Replied on: 19 Oct 2006 19:06:33
Message:
In reverse;

Ran this loop, two up, in reverse yesterday (Oct.18). I think it is better done clockwise as described in the above reports. Overall the views and flow of the road is better. The 250 was really lumbering in low gear going up some of the ascents riding double.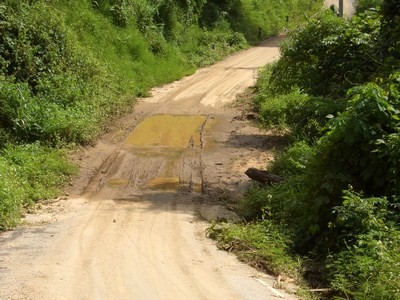 Not nearly as threatening when the water has gone down.

Note: Had a bit of a hard time with the guys at the gate entering the park. One said it was OK to go ahead as I wasn't stopping, while the other insisted I had to pay the park entrance fee to go through. Just before I dropped the clutch and gunned through, the other guy said OK, but if I stop I still must pay ( a little face saving I think) as it was very clear I was not going to pay a 400bt fee to drive through. Please don't get sucked into paying and set a bad precedent.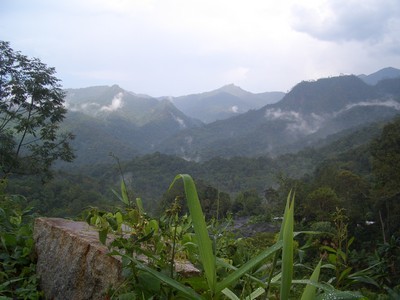 Enjoy the ride.


Dave Early

Ever notice that "What the Heck!" is usually the right answer?
---
Reply author: Big & Tall
Replied on: 20 Oct 2006 20:37:49
Message:
Dave,

Thanks for doing the research of which way has a better flow.

Yep, without the water those two places certainly have a different look to them. i bet you missed the water though.

Cheers all.
"Formerly known as the twat, racer55"
---
Reply author: pikey
Replied on: 17 Jan 2007 11:14:48
Message:
Yesterday, myself, Silverhawk, Marcus, SuzukiLuke & my mate Neil (visiting from England) did the loop again, but this time in superb weather. Check out the views and then contrast them to when we did the trip back in October:



We didn't pay to go through Jaeson National Park - a quick "pai Chiang Mai" at the gate saw us through without problems.

A word of warning though - whilst the whole loop is now either tarmac or concrete, there is a lot of loose stuff lurking waiting to catch out the unsuspecting rider. By that I mean pea gravel, sand from previous wet season mudslides and sap/moisture under the trees which can be hard to see. This can be fun to consciously break out the back end a little, but when the front lets go without warning before gripping again, it certainly gives you a "moment"!

Take it easy and enjoy it because it's a great day loop both in terms of riding and scenery.

Cheers,

Pikey.
---