IN OCTOBER of 1970 BOB LEPPAN returned to Bonneville and went head to head with a Harley Davidson Streamliner driven by A.M.A. flat track superstar Cal Rayborn. Harley snatched the record and Leppan was ready to respond.
The Gyronaut had been updated and the two Triumph Bonneville twins had been reinstalled, bored out to 750cc each. The following is a quote from Motorcycle Magazine;
"Then it happened. The thing that all high speed riders fear. Bob was winding out the Trumpet down the course at over 270 MPH approaching the measured mile. The front suspension collapsed and before any reaction was possible (like popping the drag chute) the bike started tumbling and rolling from side to side. Bob Leppan became a member of the Two-hundred MPH Crash Club and it nearly cost him an arm. During one of the gyrations of the Gyronaut, Bob's arm was ground into the hard-packed salt. The ripped and shattered limb was a candidate for amputation but Bob insisted on trying to save it. .....Bob Leppan is now recuperating from the highest speed "get-off" any biker has ever taken".
Bob never regained full use of his reattached arm. The Gyronaut never returned to the salt and a number of years later Triumph-Detroit, which had expanded into Jaguar and British Leyland car sales, went bankrupt.
There is an interesting book which recounts the history and the great impact of Triumph-Detroit on the brand which reached all the way to the designers in England. Triumph Motorcycles in America (ISBN O-87938-746-7). Written by Lindsay Brooks and David Gaylin, with a forward by Gary Nixon. (I even get a mention.)
I returned to the salt in 1976 riding a highly modified Kawasaki H2 750 cc two stroke three cylinder. The most evil and ill handling motorcycle I had ever driven. Although it was unbelievably fast we just couldn't keep it in a straight line or connected to the ground. Although we achieved speeds over 170 mph we never did get the 178 mph record we were after. Observers said the bike was throwing a 20 ft. rooster tail from it's rear wheel spinning through the measured mile. No wonder it wouldn't stay in a straight line!
---
I recently learned that my racing partner from 1969, and later Kawasaki business partner, had returned to the salt at age 70. This story about Roosevelt Lackey was published in the Detroit Free Press and, along with many facts and illustrations about the salt flats, it is quite interesting.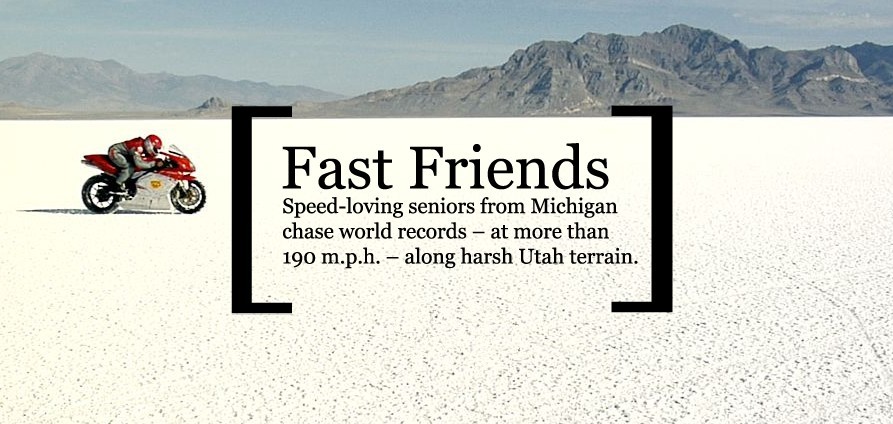 AS FOR ME........all this is interesting memorabilia that I recently retrieved from the U.S. For my Kiwi friends who had doubts, "Yes, I did REALLY meet Burt Munro". But, the past is history so I think I'll stay here riding in Thailand. But then again, that salt sure looks tempting...........